Does MS Affect Everyone Equally?
While the exact cause is not known, there are several factors that may impact a person's likelihood of developing MS, such as:
Previous infections—especially Epstein-Barr virus
Vitamin D deficiency
Cigarette smoking
Geography. MS is known to occur more frequently in areas that are farther from the equator.
Genetics. Research has identified over 200 genes that each contribute a small amount to the risk of developing MS.
Specific demographics (age, gender, ethnic backgrounds) are affected differently
Both Black and Hispanic populations have an increased risk for earlier and greater disability from MS.

---
There are several biological, social, economic, and environmental reasons for these differences—all with long historical roots.
Implicit bias amongst healthcare providers is a huge factor that has been shown to influence treatments and care.
This bias has created a deep mistrust in the medical system, rooted in historic injustices in clinical research like the Tuskegee Study.
Why do Black and Hispanic people with MS experience Medical Mistrust?
Past legacies of mistreatment
Inequities in access to health insurance, healthcare facilities, and treatment
Cultural, socioeconomic, and educational factors
Language barriers
Implicit bias among healthcare providers, plus the medical mistrust it causes, has led to a variety of consequences for the Black and Latino MS communities.
---
How have Implicit Bias and Medical Mistrust impacted MS for these communities?
1. Underreporting
For decades, it was believed MS was uncommon in the Black and Hispanic/Latino population.
In a 1979 study, White males were believed to be 2x as likely to get MS than Black males. But a 2012 study shows that Black people actually have a 47% increased risk of developing MS.
Research also indicates that the number of Hispanics/Latinos being diagnosed with MS is rising.
2. Inequities in research
MS research has historically not included people of ethnic and racial minorities, which has led to a profound void in awareness and community.
Blacks and Hispanics often get diagnosed later in their lives, leading to worse disease progression and missed treatment opportunities that could have been helpful.
3. Poorer outcomes
Hispanics and Latinos often experience more mobility impairment and more stress that lead to other health problems.
Black patients often experience more frequent relapses, earlier onset of disability, and more problems with walking, balance, coordination, vision, and thinking.
4. Lack of communication with their healthcare providers
One of the most important relationships you'll ever have is the one you'll develop with your doctor.
However, racial and ethnic minorities consistently experience poorer communication, leading to feelings of disrespect, discrimination, and disconnect with their healthcare team.
For Spanish-speakers, communication is even more difficult as only about 6% of doctors in the U.S. speak Spanish.
5. More passive in their healthcare
For all of these reasons, people are less likely to ask questions to their providers and more likely to be confused or misinformed.
---
So, what can you do?
While we can't change the healthcare system, we can recognize the inequities that exist and build strategies to overcome them.
"The African community that is affected by MS can hold the MS community accountable for getting more information and more research, but also hold themselves accountable by being part of the conversation"
Remember, you are not facing MS alone.
If you live with MS, it's common to feel like you are not understood, and this contributes to loneliness and isolation. The added stress and frustration of navigating a culturally void healthcare system only amplifies this. But there are teams to help you!
The National MS Society Navigators can help you find "MS Partners in Care" in your area.
Telehealth is opening up more opportunities to get your questions answered from the convenience of your home!
It's becoming more and more possible to find the healthcare providers that fit your needs, by taking advantage of these types of resources.
Don't forget about your mental and social health.
People with MS experience greater depression and anxiety than the general population.
African Americans and Latinos also have higher rates of psychological distress. Yet, they are only half as likely to get treatment.
Organizations like the Black Mental Health Alliance and National Latino Behavioral Health Association can provide culturally-relevant education and recommend the right mental health professional for you!
In addition to therapy, strong social connections can improve depression and improve your immune system, help you recover from disease faster, and can even increase your lifespan by up to 50%!
The National MS Society offers a list of local support groups and there are many online communities like My MS Team and Shift MS.
You are the center of your healthcare team.
You only get a few precious minutes with your provider (doctor, nurse, therapist, etc.), so make sure you take charge of the conversation.
Most MS symptoms aren't visible to others, so it's important to talk about what's going on, whether or not you think it's related to your MS.
If you don't understand what your providers are saying, ask them to repeat it more slowly, have them write it down, ask for a translator—whatever you need!
If you are given tests that are not in your primary language or that you feel are culturally biased, talk to your provider.
Most importantly, requesting a second opinion is perfectly acceptable! If you don't feel confident with a provider, it is probably time to look for another.
Consider getting involved in research.
In order to make sure the best treatments are available people of color, the most important thing you can do is be involved with research.
One study that will look at how Black and Hispanic Americans, specifically, are affected by MS is the CHIMES (Characterization of Ocrelizumab in Minorities with Multiple Sclerosis) Study, which is recruiting participants now.
Organizations like Accelerated Cure Project are also addressing the issue of racial/ethnic minority underrepresentation in MS research.
Be kind to yourself.
Living with the unpredictability of MS and navigating the healthcare system are extremely difficult…and it's even harder with the greater inequalities that many people grapple with every day.
Two key ingredients for overcoming these challenges are Flexibility and Empathy. A flexible life and flexible mindset can help you adapt. Being gentle with yourself and others will help with the emotional and mental aspects of living with MS.
Be prepared.
You can make the most of your healthcare visits, and set yourself up for success as a self-advocate, by being prepared.
Before your visit:
Make a prioritized list of questions, issues, and conversation starters.
Bring a list of medications and your medical records
Bring a notepad to take notes.
If possible, bring a friend so there are twice as many ears listening.
During your visit:
Arrive early, giving yourself time and space to be present.
Ask for a summary at the end of your visit.
Ask how to best communicate with your provider between visits.
Authorize your healthcare team members to communicate with each other.
---
"I realized that I can't carry other people or support other people or be positive for them if I was not emotionally healthy myself."
Remember, your healthcare team is meant to help you navigate all aspects of MS.
While implicit bias, medical mistrust, language barriers, and cultural differences might affect you to varying degrees—these are challenges you can overcome.
Being an advocate—whether it's for your community or just for yourself—is a way you can help yourself and help us all move forward.
---
New Podcast Episode!
Victoria Reese is Co-Founder and CEO of We Are Ill, a nonprofit organization for Black women with MS that provides support, sisterhood, and a space to learn from one another (something she couldn't find upon her own MS diagnosis).
Today, Victoria fosters this community and helps others become "professional patients." By being as knowledgeable as possible about your illness, you can be an active decision-maker in the healthcare setting, and one day feel empowered to say "I have MS but MS does not have me."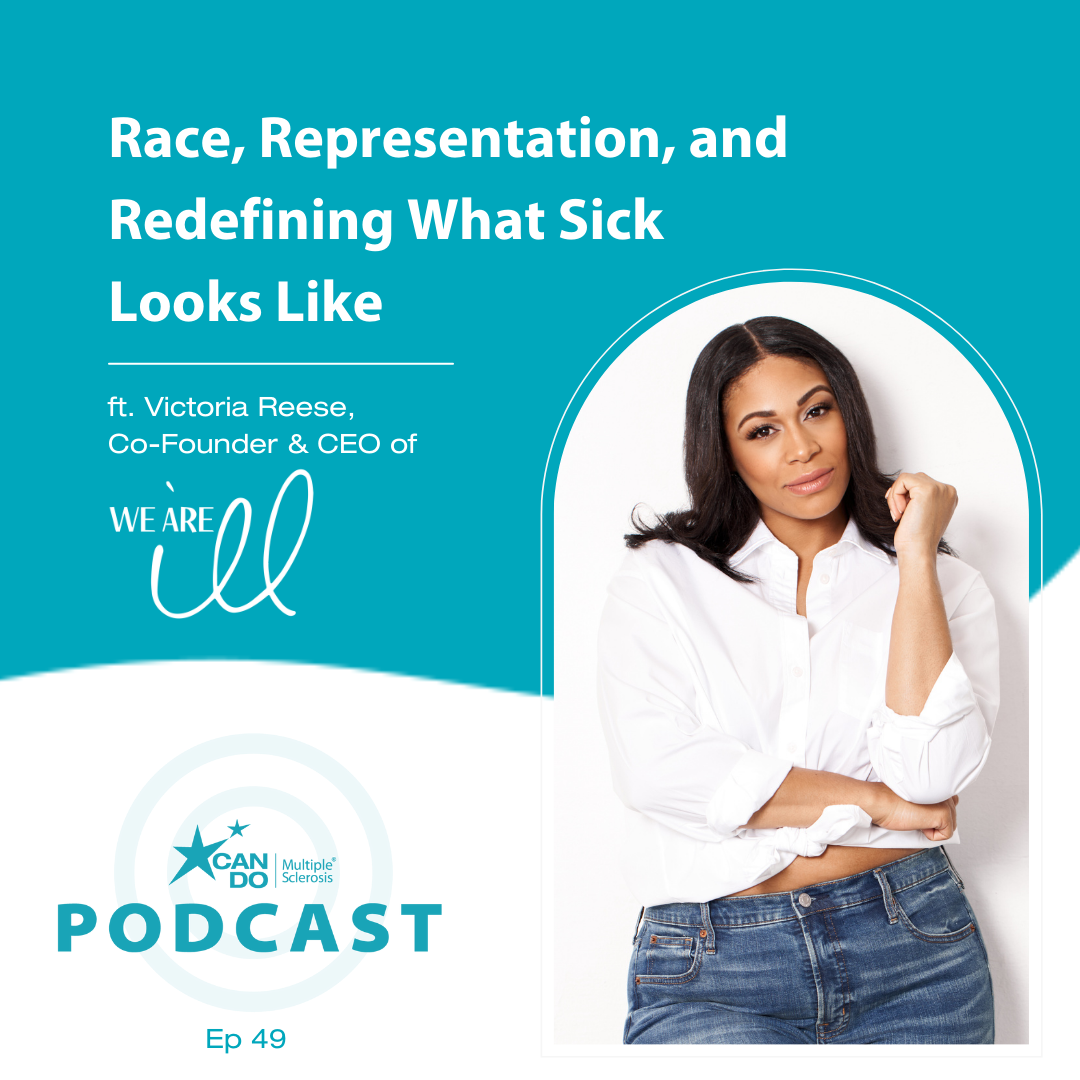 Useful Resources
---
These worksheets from the National Institute of Health are designed to help you be prepared for your doctors' visits.
These Conversation Starters can help you when you're not sure what to say.

These advocacy groups have created resources for Black, Hispanic, and minority groups with MS.
National MS Society
National Institute on Minority Health and Health Disparities
The South Suburban Council
We Are Ill
Thank you to the generous sponsors who have made this resource center possible: