Strategies to Improve Functional Vision Performance in Multiple Sclerosis
By: Fay Jobe Tripp, MS, OTR/L, CDRS
---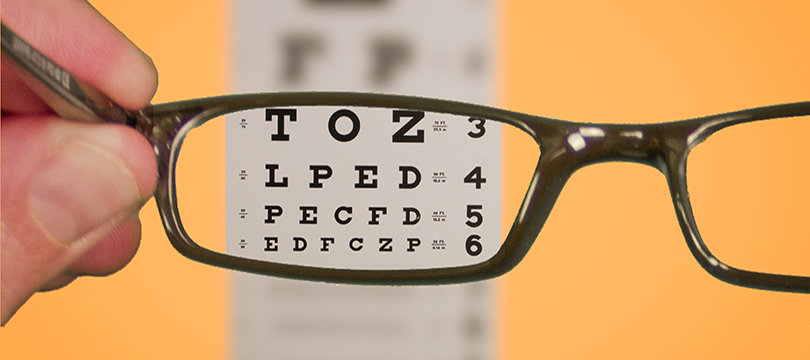 Multiple Sclerosis (MS) is commonly known to affect a person's overall physical functioning with limitations in movement coordination, strength, endurance, and sensation with numbness. MS is also commonly associated with a variety of visual disturbances. Some of these common visual disturbances include the associated effects of optic neuritis, or demyelination of the optic nerve when the protective coating around the optic nerve becomes defective. These symptoms may include blurry or hazy vision with decreased detailed vision, decreased color distinction and night vision. Double vision, or diplopia, may be present if the eyes are not working together in a coordinated fashion. Additional visual limitations may be present, including nystagmus (involuntary eye movements), decreased depth perception, and decreased peripheral vision. These disturbances may affect one eye at a time or both eyes, and symptoms may be temporary or may last for a longer time. It is helpful to have an understanding of the visual disturbances that may be associated with MS. To maximize function, independence and safety, it is important to successfully incorporate compensatory strategies into purposeful occupations and functional daily activities in the home, in leisure skills, at work, and in the community. Consider the following compensatory strategies to increase independence, safety, energy conservation and efficiency for daily tasks.
Visual Impairment: Compensatory Strategies and Devices
Because MS affects each person in his or her own unique presentation, each individual will require strategies catered to his or her own needs. It may be necessary to be seen by a neuro-ophthalmologist, optometrist, occupational therapist, and orientation and mobility specialist who specializes in Vision Rehabilitation. However, the following general compensatory strategies of magnification, lighting, and glare control can improve functional vision when central vision is blurry or hazy which limits a person's near vision, for reading, writing, computer work and detailed tasks.
Magnification
Hand held illuminated magnifier: Independent Living Aids, Maxi-Aids, Eschenbach
Electronic magnifiers:

Cell phone apps: Brighter & Bigger, SuperVision Mini

Portable electronic: Eschenbach Smartlux Digital; Freedom Scientific Ruby XL HD

Desk electronic video magnifier: Freedom Scientific Topaz XL HD, Optelec ClearView Speech

Electronic books: Kindle, Nook; use iPad or phone Kindle apps

Telescopes

Hand held monocular telescope: Independent Living Aids, Maxi-Aids, Eschenbach

Mounted telescopic lenses: Ocutech Vision Enhancement System (VES)

Larger monitor or screen size: TV, computer, phone screen
Lighting
Full spectrum lighting with decreased glare and increased contrast

Ottlite, Verilux, or Daylight brand from local hardware store or on-line
24 watt or higher
In the home versions: desk or floor styles
Portable versions: cell phone flashlight app, LED flashlight, portable Ottlite

Task directed light, positioned directly to task
Glare control and contrast enhancement
Invert colors on your phone or computer monitor
Wear sun-filters for glare control:

Cocoons or Solar Shield brand fit-over non-polarized, blue light blocker sunglasses
Lighter yellow tint for inside or lower lighting environments
Lazelnut / amber tint for brighter, outside environments

Position yourself away from glare from windows, with your back to the window
Position computer or TV monitors away from the window or bright lighting
Reading Strategies
Task directed full spectrum lighting, 24 watt or higher
Magnification, if needed:

Hand held illuminated magnifier or portable video magnifier for spot reading
Electronic video magnifier (closed circuit TV, CCTV) desk version for reading books, magazines, etc.

Line guide: use solid color book mark or line guide to keep place and decrease visual clutter from page contents
If double vision is present, cover one eye with a vision occluder; alternate eyes as appropriate
Electronic reading device or app (Kindle, Kindle app) to enlarge text size, invert contrast
Auditory books: Audible, iPad or tablet auditory reading; Audible book app
Mobility and Community Accessibility
Visual impairment can directly affect mobility safety and community accessibility, and increase risk of falling. Common challenges may include decreased acuity in one or both eyes, impaired depth perception, decreased peripheral vision, and decreased functional vision related to glare. Visual processing may also be affected, and this may affect motor planning and compensatory responses. Physical limitations also impact mobility, and may include impaired muscle strength, muscle tone with hypertonicity or spasticity, decreased joint active range of motion, endurance limitations, decreased balance, and decreased sensation in the legs, feet, arms or hands. For ambulation, using a mobility aid like a cane or rolling walker with a seat may offer improved endurance with reduced muscle fatigue, decreased risk of falls and improved safety. This added physical support is helpful with visual or extremity sensory impairments, as the additional mobility aid can provide helpful sensory feedback for changes in landscape or way-finding patterns. Prior to obtaining a mobility aid, it is highly recommended that individual guidance is obtained from a physical therapist or occupational therapist that has specialty training in neurological disorders to ensure that the appropriate device is chosen. If there are significant visual limitations, a certified orientation and mobility specialist (COMS) will provide instruction in how to use a mobility aid combined with strategies to compensate for the vision impairment. When working with mobility specialists, it is important to share information regarding visual limitations to ensure that the best mobility aid is chosen. Some types of aids, known as durable medical equipment (DME), may be covered under insurance but may require assistance of an Assistive Technology Professional (ATP) for seating and mobility device assessment and training.
Mobility and Fall Prevention

Use assistive aid, cane, rolling walker or rollator walker with seat and basket to carry items
When needed, use a manual wheelchair, or powered wheelchair or scooter for longer distances to conserve energy
Incorporate lighting and glare control when walking
Wear sensible, supportive and non-slip shoes
Stairways:

Use good lighting and glare control strategies
Hold on to handrails and use sensory feedback with feet for depth perception and height judgment
Don't carry items up or down steps
Avoid stairs if it is high risk: use a ramp, elevator, or in-home chair glide system
Driving Safety
A common measure of independence is the ability to drive oneself. With MS, visual impairments can cause driving challenges. Visual impairments may be chronic, or may be intermittent as during an MS exacerbation. Common visual impairments may include a decrease in distance visual acuity and night time vision, glare tolerance, depth perception, peripheral vision, or an increase in double vision. These visual changes may impact significantly, as with double vision and poor night vision, rendering driving to require restrictions, vehicle modifications or complete delegation to another licensed driver. These strategies may be helpful.
Driving Strategies and Modifications
Compensate for decreased peripheral vision:

Perform head turn scanning strategies

Apply expanded view mirrors to the existing side view mirrors

Apply a panoramic view mirror on the existing rear view mirror

Use glare control sun-glasses during daylight hours for high definition of images
Self-restrict driving when there are intermittent vision changes: delegate driving at night, interstate highways, high fatigue level periods
For visual acuity that is stable, but that does not meet the state Motor Vehicle's driving requirements, a bioptic telescope lens system to enhance distance vision may be allowed in some states
Use a GPS system to assist with directions
Choose available safety features on automobiles: sensors for forward collision warning, backing up, lane departure warning, blind spot warning, parking
With driving, vision is not the only consideration for safety. As with mobility, physical limitations also impact the ability to control a vehicle, including impaired muscle strength, muscle tone with hypertonicity or spasticity, decreased joint active range of motion, endurance limitations and decreased sensation in the legs and feet. Appropriate cognitive processing skills are also necessary for safe driving. Many of the state's Department of Motor Vehicle Medical Review Boards will require a comprehensive clinical and on-road driving assessment that will include vision, cognition and physical skills assessment related to driving. A comprehensive clinical driving assessment can be completed by an occupational therapist with specialized training (Certified Driver Rehabilitation Specialist, CDRS) if necessary to obtain objective measures of a person's ability to safely operate a motor vehicle. The CDRS may also provide guidance in an appropriate type of vehicle to accommodate physical needs, seating requirements, and transfer ability.
RESOURCES
Cocoons Eyewear http://cocoonseyewear.com/low_vision/
Driving Education:
Assoc. for Driver Rehabilitation Specialists http://www.aded.net/resource/resmgr/FactSheets_MS.pdf
American Occupational Therapy Assoc. http://www.aota.org/Practice/Productive-Aging/Driv...
Eschenbach Optik http://www.eschenbach.com
Freedom Scientific http://www.freedomscientific.com
Independent Living Aids, Inc. http://www.independentliving.com
Maxi-Aids Low Vision Aids https://www.maxiaids.com
Ocutech Telescopic Low Vision Aids http://www.eschenbach.com
Optelec Low Vision Aids https://us.optelec.com
Ottlite Full Spectrum Lighting http://www.ottlite.com
Performance Health (Patterson Medical) https://www.performancehealth.com
Assistive Technology Professional http://www.resna.org