Realistic Resolutions: Changing Resolutions into Habits
By: Peggy Crawford, PhD; Stephanie Buxhoeveden, MSCN, MSN, FNP-BC; Mandy Rohrig, PT, DPT, MSCS
---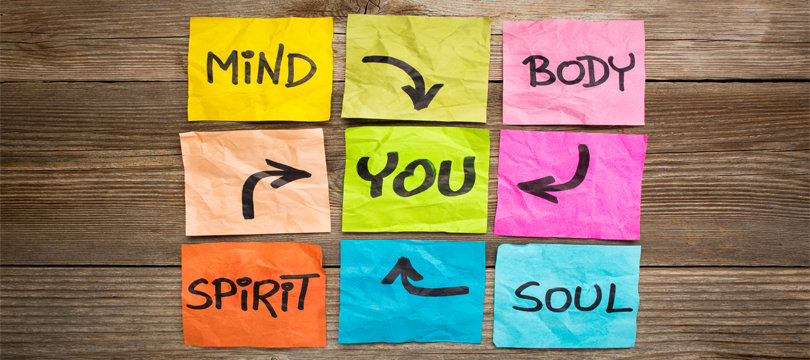 The holidays are joyful and enjoyable. We spend time with friends and family, take part in favorite traditions, laugh, smile, and reflect on the year's events. In addition to reflecting on the past year, we often look forward to the next year and think about improvements we hope to make in our lives.
New Year's resolutions often involve aspirations to improve wellness. While wellness is frequently thought to include just diet and exercise, it includes many more dimensions. Can Do MS and the National MS Society recognize six dimensions of wellness: 1) Diet, Exercise, and Healthy Behaviors, 2) Relationships, 3) Work and Home, 4) Emotional Wellbeing, 5) Spirituality, and 6) Cognitive Well Being. While it may be tempting to think, 'wow, I would like to change something in each of these areas,' that approach is not likely to work. Learning about what is included under each dimension of wellness (check out the attached wellness wheel), thinking about them on your own and with others, including your support partner, can help you to prioritize your wellness needs and then select the wellness dimension that you wish to improve.
Once you have settled on the dimension of wellness you wish to pursue, consider using the SMART goal strategy to help you focus your efforts. SMART is an acronym for "Specific," "Measureable," "Attainable," "Relevant," and "Timely." An example of an unfocused goal would be "I will exercise." A SMART goal variation would be, "I will ride the stationary bike for 5 minutes, 3 times a week for 1 month."
Just as MS is unique to every person living with the disease, the strategies and approaches to achieving wellness goals are also unique to everyone. When you couple the uniqueness of Multiple Sclerosis with its complexity, you can see how a linear approach to goal setting and achievement is incredibly difficult. For this reason, engaging your health care providers, or your "MS Team," will also likely increase your chances of success. The National MS Society Wellness Guide can help you identify potential wellness goals and outlines strategies for talking about wellness with members of your healthcare team . This Guide also includes examples of SMART goals.
Unfortunately, but realistically, despite the best intentions to put SMART goals into action, "life can get in the way." Whether it is a bad MS fatigue day, a relapse, or scheduling conflicts with work or home life, it's easy to get off track. As disability increases, increased time and mental/physical energy is required to sustain daily life activities, leaving less energy available for working consistently on wellness goals. More disability often means that the support partner provides greater assistance with daily activities, some estimates of up to 10 hours/day (Carton, et al, 2000), leaving them with less time and energy to work on their own wellness.
A recent research article (Fakolade, et al, 2017) identifies that physical activity for people with MS and their caregivers (who manage moderate to higher levels of disability) experience a continuum of interest, commitment and engagement with physical activity. There are phases of strong interest and commitment to exercise and other times when they are less interested. The triggers of disinterest the authors recognized included awareness of limitations, negative thoughts, or lack of resources, among others. However, they also noted that programs, support services, and social networks were what provided the greatest opportunity for resetting and re-engagement, with health care providers offering key nudging. While this article applies to physical activity, the concept of a continuum of interest and the necessity of resetting and re-organizing goals with the help of others can apply to any or all areas of wellness.
While the New Year is most often associated with change, any time of the year and any moment can provide opportunity to begin practicing new habits. It is important to anticipate and deal with obstacles that are likely to interfere with any of your wellness goals. Common challenges may include:
Other people wanting your time and attention
Fatigue
Not enough hours in the day
Procrastination
Inflexible thinking—"it's all or nothing"
Your goals are not as SMART as you thought
Coping and managing these challenges may involve strategies such as:

Teaming up with a Wellness Partner
Discussing your plan with a trusted person
Utilizing programs and resources such as Can Do MS and the National MS Society
Identifying and building on your strengths

Do things when you have more energy
Think about how you achieved goals in the past

Keeping a record of your efforts and progress
Cutting yourself some slack—a missed day of exercise or healthy eating is not a failure!
Accessing this information and support will help you through challenging times and increase the likelihood that your new habits will contribute to your wellness. We wish you well on your wellness journey!
For Emotional Wellness:
Jon Kabat-Zinn's book, Full Catastrophe Living: Using the Wisdom of Your Body and Mind to Face Stress, Pain and Illness, revised and updated 2013.
Jon Kabat-Zinn's series of practice CDs, Guided Mindfulness Meditation available through www.mindfulnesscds.com.
Belleruth Naparstek's CDs on imagery for multiple conditions/topics including stress, sleep, pain, depression and specifically, MS, A Meditation To Help You With MS from Health Journeys.
Shamash Alidina's book, Mindfulness for Dummies 2nd edition, 2015.
For finding a mental health professional:
Call the National MS Society at 1-800-344-4867 and speak to an MS Navigator who can help you identify mental health professionals in your area who have experience and interest in working with people with MS. You can also do this online by going to NMSS.org.
Local and state psychological associations have online referral programs where you can provide your location, insurance, problem/symptoms, and your preferences (e.g., experience working with people with chronic illness) and a list of possible psychologists with contact information will be generated for you.
Help/PRO at www.helppro.com/HP/therapist-finder/index.aspx
This directory provides an alternative way to find counseling and other mental health services that match your needs. You can click on any link to find therapists or counselors by state, metropolitan area, specialty or age group served.
Resources:
Wellness Reflection Questionnaire: https://umatter.princeton.edu/sites/umatter/files/media/wellness-self-assessment.pdf

Different models of wellness exist with different language, however, the concepts remain consistent across models.

National MS Society Wellness Guide: https://www.nationalmssociety.org/NationalMSSociety/media/MSNationalFiles/Brochures/Brochure-Wellness-Discussion-Guide-for-ppl-wMS-and-HCPs.pdf
Carton H, Loos R, Pacolet J, Versieck K, Vlietinck R. A quantitative study of unpaid caregiving in multiple sclerosis. Mult Scler. 2000;6:274-279. Murphy N, Confavreux C, Haas J, et al. Economic evaluation of multiple sclerosis in the UK Germany and France. Pharmacoeconomics. 1998;13:607-622
Fakolade A, Lamarre J, Latimer-Cheung A, Parsons T, Morrow SA, Finlayson M. Understanding leisure-time physical activity: Voices of people with MS who have moderate-to-severe disability and their family caregivers. Health Expect. 2017;00:1–11.
Wellness Wheel, a holistic model of wellness and prevention over the lifespan first presented by TJ Sweeney and JM Witmer in 1991.