Managing Complex Care Needs Whenever They Occur: A Team Approach
By: Stephanie Buxhoeveden, MSCN, MSN, FNP-BC; Roz Kalb, Ph.D.; and Mandy Rohrig, PT, DPT
---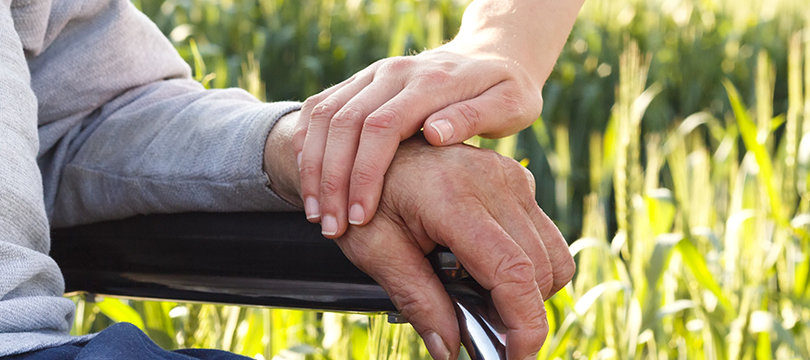 You and your healthcare team work together to manage your multiple sclerosis (MS). Each of the team members shown here can help you recognize and address the many kinds of challenges that may occur over the course of the disease. People with MS and their families may interact with many of these providers depending on the medical, psychological or social problems that arise over time.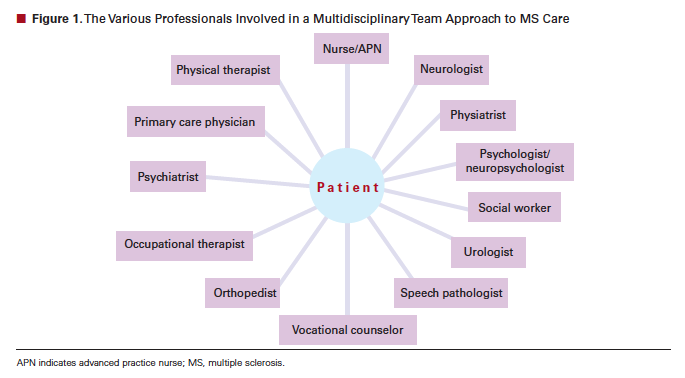 Multiple sclerosis is a chronic, unpredictable illness. Therefore, complex physical, emotional, and/or cognitive symptoms can occur at any point in time.
Early in the disease, for example, a person may experience a particularly severe relapse (also called an exacerbation or attack), producing symptoms that interfere with daily functioning, create significant discomfort and compromise quality of life. These symptoms - which can be physical, emotional or cognitive - may partially or completely disappear over a period of weeks or months.
Or a person's MS may become more progressive over time, with gradually worsening symptoms that may limit mobility, compromise function (physical, cognitive or emotional), and impact safety, independence, and overall health.
A person may also develop secondary complications such as problems with their skin from sitting or lying for extended periods of time, compromised pulmonary function, bladder or bowel function, or pain from severe spasticity, for example.
We also know that people with MS tend to have more 'co-morbidities' – other health conditions that precede or coincide with the MS – than the general population. These co-morbidities, including depression, anxiety, high blood pressure, high cholesterol, diabetes, and chronic lung disease, are known to slow the diagnosis of MS, speed disease progression, impact overall health, and potentially shorten a person's lifespan.
Given all these factors that can interact with one another and impact a person's health and well-being, it's helpful for people with MS and their families to know where to turn and how best to coordinate their care. Some common questions people ask themselves are:
How do I know if a problem is caused by my MS or by something else – and which provider(s) can help me sort that out?
Sometimes there are a lot of symptoms and problems happening at once – how do I know where to start?
We simply don't have the resources to pay for all the care I need – what should I do?
This is all more than I can handle – I'm too [overwhelmed, depressed, anxious, confused] to know where to begin.
The key point to remember is that you don't have to deal with these complex issues alone. There are many different kinds of resources to help you, so your first priority is to build the support network you need.
Beginning at the time of diagnosis – and throughout the disease course – it's essential to have a good working relationship with a neurologist and a primary care provider you trust. It is their job to help you take care of the whole you – including your MS and your overall health and well-being. Neither one of them can do it alone because each provide specific care utilizing specific knowledge, skills, focus on different aspects of your health.
Your primary care provider's role is to assess your general health, provide routine, age- and sex-appropriate health screening, administer appropriate vaccines, refer you to specialty healthcare services such as cardiology, urology, pulmonology, and so on, if and when you need them for specific health conditions.
Your neurologist's role is to ensure you are correctly diagnosed and to work with you to manage relapses, slow the disease course and refer you to other services as needed: to rehabilitation services to enhance your mobility, safety and independence, to mental health services for the assessment and treatment of the emotional and cognitive changes that are so common in MS, and back to your primary care provider for any health conditions that seem to be impacting or complicating your MS.
In addition to the neurologist and primary care provider, you may gradually enlarge your team with other, particularly during those times when symptoms are particularly severe or complex. Together, these members of your team can help you sort out what is happening, prioritize the problems that need to be addressed immediately to ensure your quality of life, and minimize unnecessary complications to your overall health.
Your role is to ensure that your healthcare providers have the information they need – your complete medical history, current symptoms, an up-to-date list of medications you are taking, any side effects you're experiencing, recent changes in your mood or thinking, problems you are experiencing at work or home – so that they can provide you with the best possible care.
You also need to be your own best advocate – confirm that your providers communicate with one another in order to ensure that your overall care is coordinated and comprehensive.
Patient advocacy organizations, including the National MS Society, Multiple Sclerosis Association of America and Multiple Sclerosis Foundation, are valuable sources of information, support, referrals, and some types of financial assistance. The Society's MS Navigators (800-344-4867) can also connect you with care managers who help coordinate care in situations where you feel overwhelmed by the complexity of the problems and challenges you are trying to address. And the following resources can assist you with managing medication costs and coverage:
Medication Copay Assistance for People Covered by Private insurance
Symptom Management:
There are coupons for pretty much any type of prescription medication (for any type of medical issue) available at www.goodrx.com (just type in the name of the medication, and coupons for local pharmacies will be listed, along with printable coupons)
Disease Modifying Therapies:
All DMTs have patient support services that will work with each person to lower their copay to as low as $0, and some even help pay your deductible if you meet it because of your DMT. Links to all DMT patient support services (including websites and phone numbers) can be found on the National MS Society's website:
http://www.nationalmssociety.org/Treating-MS/Medications/Financial-Assistance-Programs
Medication Copay Assistance for People Covered by Public Insurance:
People with public insurance cannot use coupons or patient assistance programs due to the anti-kickback law. There are several nonprofit organizations that can help cover medication expenses:
The Assistance Fund- (877)245-4412
GoodDays- (877)968-7233
HealthWell Foundation (Medicare only)- (800)675-8416
Patient Advocate Foundation Co-Pay Relief Program (Medicare, Medicaid, Military plans only)- (866)512-3861
Patient Access Network (PAN) Foundation (Medicare only)- (866)316-7263
Medication Copay Assistance for People without Insurance:
For DMTs contact the patient assistance program for the medication to find out how to qualify for free medication- http://www.nationalmssociety.o...
Some brand name medications used to treat symptoms also have programs through the manufacturer (Such as Pfizer's RxPathways which will offer free Lyrica to those with a financial need). Check the pharmaceutical's website for information on programs, and instructions on how to apply.
MRI Copay Assistance: MSAA MRI Access Fund- http://mymsaa.org/msaa-help/mri/
Free Cooling Equipment: MSAA's Cooling Distribution Program http://mymsaa.org/msaa-help/cooling-products/
Financial Assistance for Adaptive Equipment (wheelchairs, ramps, stair lifts, vehicle hand controls etc: MSAA Equipment Distribution Program (bathtub transfer benches, shower chairs, bathtub safety rails, elevated toilet seats, seated walkers, grab bars, quad canes, adapted drinking cups, grab bars, hand rails, easy-grip utensil sets, leg lifts, manual wheelchairs): http://mymsaa.org/PDFs/app_Per...
Every state has a vocational rehabilitation agency that helps people with disabilities access equipment that enables them to work: https://www.fda.gov/downloads/...
For additional adaptive equipment resources: http://www.nationalmssociety.o...
MS Society Navigator Program: Can help you find out what financial resources are available in your state/community. (800) 344-4867
Hospital Based Care/Testing: not-for-profit hospitals often have programs that offer free and/or discounted care for patients with financial need (these can help with the cost of lab work, imaging, and other testing), but most programs are not well advertised. Find out which hospitals in your area are not-for-profit, and contact them to inquire about available programs. Many for-profit hospitals also have charitable care programs, so it is always worth asking.