Responses are provided as general educational resources and should not be interpreted as diagnoses, prognoses, or treatment suggestions. Information and perspectives represent the views of the individual author(s); Can Do Multiple Sclerosis is not responsible for the accuracy or currency of the responses. Readers should consult with their healthcare team.
filtered by: Home & Work (remove)
My MS leaves me wiped out. Do you have any advice for getting up and down my apartment stairs?
Occupational Therapist Response
Stephanie Nolan, OTR/L
Can Do MS Programs Consultant
If you're not already getting therapy services from either an OT or PT, I would highly recommend starting services and addressing your environmental barriers with them. They can work with you to create a personalized plan. In your case, stairs seem to be the biggest barrier. Do the stairs have railings on both sides, and if so, can you reach both while on the steps? If not, have you ever worked on stepping sideways with both hands on one railing? Sometimes having four points of contact (both hands and feet) can allow for increased stability and less exaggerated muscle use.

Are you more able to sit on the steps and "bump" down on your bottom using more arm strength and having less risk for loss of balance? There are rentable ramps that can manage shorter flights of stairs or exterior hydraulic lifts. There are also various techniques that can help you negotiate stairs. A therapist can assess your movement patterns to help develop these techniques and determine your best options.

Next, consider energy conservation. When planning to go out, limit fatiguing activities before and after managing the stairs. For example, maybe instead of showering the morning before you go out, shower the evening before so you have time to recover. Get more rest the night before if possible. Plan rest breaks, during and after! Depending on the facility and size of each landing you could have a chair placed on each landing. This would allow you to sit and rest between flights to recover before moving to the next. Arrive to your destination early when possible and rest before your planned activity. Using a shared-ride van with a lift is a great way to conserve some energy when getting in and out of the vehicle and not having the burden of driving!
Communicate! This is very important when dealing with the symptoms of MS. In this case, to communicate will also mean to advocate. Contact your apartment complex and ask about their potential for installing a ramp of railings for easier access. Having chairs placed on the landing is simple request that may be a quick solution. Talk to them, see what other solutions they may come up with. Communication may also mean asking for help from a friend. Maybe someone can help carry items down for you or provide physical support (best to have a therapist train your friend who may be helping).
As a last resort, I would suggest considering moving to an apartment that is handicap accessible and that does not have stairs. I know this is a big task to consider, but imagine how much more energy you will have- and how many more activities you could enjoy- if didn't have to navigate stairs. Also, keep in mind that your MS may change over time making stairs even more difficult or unsafe. I often suggest that people look for accessible apartments before they need them since wait lists can be very long! Consider how those stairs affect your overall quality of life and determine if moving would change that for you.
Hope this helps!

Do I need to pay taxes on my disability benefits?
Long Term Disability Attorney Response
Jamie R. Hall, Esq.
Social Security Disability Insurance (SSDI) benefits may be taxable, depending on your income level. Generally speaking, tax liability for a single filer begins at an annual income of approximately $25,000. For a married couple filing jointly, tax liability begins at approximately $32,000 of annual income. Claimants should be aware that the SSA will perform tax withholding upon claimant request.

The taxation of private long term disability benefits can vary, but is typically based upon whether the insurance premium was paid in pre- or post-tax dollars. If the premium was paid in pre-tax dollars (such as the employer paying for the policy), then the benefits would be taxed. If the policy premium was paid in post-tax dollars, the benefits would not be taxed. More simply, all long term disability plans are taxed; it is simply a matter of whether tax is paid on the policy premium or on the policy distribution.

The above are general concepts of taxation for disability benefits, and there may be variation from state to state or based upon the individual. Always consult with your tax advisor and/or legal counsel for proper planning when receipt of disability income is anticipated."

Are pool exercises good for people with MS? When looking at purchasing a home pool, what should I consider? Any recommendations for design and activities will be helpful.
Physical Therapist Response
Michele Harrison, P. T., CSMS, ATRIC, ATP
Can Do MS Programs Consultant
We know that exercise is essential in our lives to maximize our health and to improve our ability to participate in all the activities that comprise our lives. Once we have committed to this concept there are a few things we need to do to be successful:
Choose an activity you enjoy participating in.
How accessible is the exercise chosen to my abilities?
How accessible is the exercise chosen to my location?
a. What local and financial resources are available
Aquatic exercise is a great option for exercise for many reasons. A couple of benefits include:
Greater ability for movement and standing up due to buoyancy in the aquatic environment.
If the water is the appropriate temperature, it is a great way to be active and stay cooler.
The next step is to locate a pool in your area. If this is a recreation center, then there may be exercise classes and programs available, or a person may choose to participate in their own workout during open swim times. Contact your local physical, occupational, recreational therapist or exercise physiologist for information regarding an effective aquatic exercise program that can address endurance/fatigue, strength, balance, flexibility and mobility is important. The local National MS Society chapter or MS clinics may offer classes as well. Sometimes there really are no local pools close enough to utilize. Some people have private pools or decide to have one built for their own residence. The options for this are numerous and varied. A custom therapy pool could be designed and fabricated to most any specifications desired. There are above ground pools and pools that are in ground. There are pools that accommodate only one person or multiple people. There are pools with a variety of sizes, depths, pool surfaces, seats and whirlpool jets, for example. A decision for pool design will be driven by the types of activities the person wants to participate in. For example, if a person want to swim laps but has limited space in their home or yard, they may want an endless pool. This is a pool that is 1 lane and has a current to allow a person to perform laps while swimming in place. This style could be used with or without the jets for water walking but configuration will limit other uses. Someone that wants to do other exercises may need a space that is bigger to move around in.
Other considerations include pool depth for the best utilization of buoyancy, ability to sit for rest breaks during a workout if needed and access to a pool. There are a variety of ways to get in and out of the pool including a ladder, steps with or without a railing, ramp or a lift (this could be a permanent lift or mobile). A pool that is above ground may not be as easy to get into and out of but more economical and easier to install. Safety and ease of getting in or out of a pool consistently is important. There are small walk-in types of pools with a door but these are very limited in space and sometimes expensive options. The person putting a pool in there residence also needs to think about the expense of putting the pool in but also the continued maintenance to keep the water clean and safe for use. The tests to keep the chemicals and Ph levels often require daily maintenance. Is the pool indoors or outdoors with only seasonal availability for use? This needs to be considered as well.
Do people use a private pool? This is the $1,000 question. As with any type of exercise equipment, it is up to the person and their motivation to use the equipment, not to just look at it. If you are motivated and able to schedule use of the pool 3 – 5 times per week, it may be a good investment. However, if you only use it occasionally, finding an existing local pool may be a better choice.
There are a number of custom therapy pool designers and manufacturers. There are often local pool designers as well.
Endless Pools or Waterwell
1601 Dutton Mill Road
Aston, PA 19014
(866) 559-7946
Hydroworx
1420 Stoenridge Drive
Middletown, PA 17057
(800) 753-9633
Ferno
70 Weil Way
Wilmington, OH 45177
(937) 382-0895
Whitehall Manufacturing
15125 Proctor Ave.
City of Industry, Ca 91744
(800) 782-7706
Aquatic Access Inc.
417 Dorsey Way
Louisville, KY 40223
(800) 325-5438
Physical Therapist Response
Mary Kay Hausladen Foley, PT, GCFP, CHTP
Can Do MS Programs Consultant
First of all congratulations on your obvious commitment to exercise and self-care!
As you probably know aquatic therapy and exercise can be a wonderful choice for people with MS. The water, given it is an appropriate temperature, helps to keep your core temperature down during exercise, while the buoyancy of the water often allows for greater function and freedom of movement. Having a pool at home can help alleviate some of the common pitfalls of aquatic exercise including travel time to a pool, heavy chlorination of public pools, and finding a place to do standing exercise if the pool is being utilized for lap swimming.
Some aspects to consider in your decision to get a home pool would include;
1) Do you truly enjoy aquatic exercise? Some people start aquatic exercise because of its benefits, which are many. However, unless you truly enjoy pool exercise it may not be a wise investment.
2) Have you thought about safety considerations? Are you able to transfer safely into and out of a pool, or do you have someone to assist you? Will someone be home while you are in the pool if you need assistance?
3) Do you enjoy exercising alone? Some people prefer the camaraderie of an aquatic class setting, while others much prefer a quiet place to do their exercise alone.
4) Have you tried aquatic therapy? Even if you have done some pool exercise in the past, I would recommend consulting with an aquatic therapist before making this purchase. They can help you look at your specific needs and recommendations for exercise presently, as well as considering what might be appropriate for you in the future. They can also help you look at the different pool models which are available and recommend what features are important to maximize your exercise potential, as well as safety. The American Physical Therapy Association has an Aquatic Physical Therapy Section which has a locator for aquatic therapists. The link is: http://www.aquaticpt.org/findaclinic/index.cfm (I did notice that all resources are not listed on this site, but it is a good place to start. If they do not have a listing for someone in your area, I would ask a local physical therapist for a recommendation.)
I work in a physical therapy clinic where we have a Swim Ex exercise pool. We have had patients come in to use our pool on a regular basis for their exercise programs. Most have not used the current for swimming, but several have used it for resisted walking. You might want to consider this use when deciding whether or not to get a pool with current. In addition to allowing you to work on walking for functional distances, a current allows you to more easily include resisted walking or running for cardiovascular exercise in your routine.
Aquatic exercise is a wonderful way to feel refreshed and energized while gaining the cardiovascular, strength and flexibility benefits of exercise. I wish you the best with your decision on this potential investment in your health. Whether or not you decide to get the pool, be sure to keep moving.
Any suggestions on how to start the SSDI process?
Community Liaison Community
Lisa Giogetti

Social Security Disability Help
Social Security Disability Insurance (SSDI)provides financial assistance to disabled workers and their families. You can qualify for SSDI if the Social Security Administration (SSA) deems you medically disabled and finds that you have worked for long enough and have paid into the Social Security tax pool, the amount depends on your age, from where these benefits are drawn.
The first step is to determine if you qualify. An SSDI attorney or community liaison (including MS Society Navigator) can help you with this determination, which can be, unfortunately, frustratingly complex. The basis for qualifying is the SSA's Blue Book, which has medical conditions listings that typically must be met. These conditions are outlined in http://www.disability-benefits-help.org/disabling-conditions/multiple-sclerosis-and-social-security-disability
The listing for MS is found under the neurological disorders section of the adult Blue Book listings, 11.09 Multiple Sclerosis. In order to meet the listing, you must show:
Limb dysfunction causing walking difficulties
Vision decrease despite corrective lenses
Nervous system issues causing fatigue
Mental disorders, including mood swings or memory loss.
If you believe you meet these qualifications, the next step to complete an application, which can be found at https://www.google.com/url?sa=....
You will need to gather any medical information that may help your claim. A list of daily activities will be invaluable because MS can affect many different aspects of life. Consider asking for statements from doctors and include records of hospitalizations, any treatments prescribed, and in the case of a child, statements from teachers and other professionals who regularly see your child and can attest to the effects of their condition. Be as thorough and detailed as possible in order to give yourself the best chance of qualifying. You will also need the financial and employment information required by both the SSDI and SSI programs. http://www.disability-benefits-help.org/content/application-process

When you are ready to begin the application, take the following steps:
Gather all necessary medical and non-medical documentation.
Begin filling out the application forms online or in person with an SSA representative. Applications for children can only be processed in person.
Wait. The wait time for a decision can be anywhere from a month to over a year.
If you receive a denial, know that you may appeal that decision within 60 days of receiving it. Many initial applications are denied by the SSA for being incomplete or incorrect. The appeals process is how most folks are finally approved.
If you have difficulties with any of the steps or are unclear of the process, consider hiring a disability advocate. These specialists are well versed in the application process and will help you prepare and present your claim to the SSA examiners.
A disability advocate can be particularly helpful when it comes to receiving back pay. As the application process and decision-making process also takes time, you can be awarded back pay from the time that you became disabled. Note: this only applies to SSDI applicants.
The application process for Social Security Disability benefits can be lengthy, but entirely manageable if you stay organized and consider hiring an advocate to represent you. They can help you structure your application, so that you stand a better chance of receiving the benefits. With or without representation, receiving these benefits will help you afford treatment for MS and lead a financially stable life.
For more background information on SSDI and MS, please utilize these resources:
Disability & Social Security Benefits in MS - Can Do MS Article

The New MS Listing for Social Security - Can Do MS Webinar
Knowing How To Navigate Leaving the Workforce - Can Do MS Webinar
Applying for Social Security Disability Benefits - National MS Society Guidebook
Do you have any information on emergency preparedness checklists for people with mobility issues? If there was ever a fire or other emergency, we could not run out fast...BUT perhaps we can improve our plans, products, and protection.
Occupational Therapist Response
Stephanie Nolan, OTR/L
Can Do MS Programs Consultant
Hello CAN DO MS readers! Thank you for this great question about life-saving equipment for those with MS in the case of emergencies. While many people think "this won't happen to me," emergencies are sudden and unavoidable. Prevention and preparation are key to survival and success. Since reading long paragraphs can be challenging visually (and sometimes cognitively) for those with MS, I am going to make bullets for you to use as a 'checklist' in preparing your home for safety.
1. Create an 'Emergency Info Packet' and keep it out in the open with something written on it like "in case of emergency, please read." This can be easy for you to grab and go in an emergency situation or for someone to easily find in case you are incapacitated. This should be in a waterproof container and include the following:
a. Your diagnosis (with current symptoms, e.g. explain speech difficulties so that if someone finds you struggling to talk they don't assume this is a new symptom and incorrectly diagnose you with something else)
b. Current medications
c. Allergies
d. Care instructions
e. Past medical history (surgeries, diagnosis, injuries, precautions e.g. thickened liquids)
f. Emergency contacts
g. Information about pets & service animals
h. Primary care doctors or specialists (ex neurologists)
i. Copies of insurance cards
2. HAVE A PLAN! Depending on where you live you might need to plan for something like a hurricane, earthquake, heat waves or maybe even forest fires.
Have a few people for emergency contacts that know your plan.
a. Discuss your limitations with people in your neighborhood or apartment complex and practice evaluations with those willing to help.
b. Keep the plan written down and organized with phone numbers and addresses.
c. Have an emergency 'meetup' place in different locations depending on the direction of the current threat. (e.g. if a fire comes from the north, than you might go south to your aunt's house; if a hurricane comes from the south, you might go to your sisters house in the north. Also, if possible, have some extra medical equipment stored at that home like walkers, shower chairs, etc.).
d. Keep the written plan in a place that is easy to get to (e.g. hang a copy on your refrigerator or put a copy into your go bag).
e. Towns or neighborhoods often have an emergency preparedness program for people with disabilities- Contact your local emergency management agency to see if they keep a list of people with disabilities to know who to assist in the case of an emergency or disaster.
3. Signs: post a sign in your window that indicates someone with a disability lives in the home and needs extra assistance in the case of emergency.

4. Have an 'Emergency Go Bag' (maybe even 2- one in the home and one in the car) that includes the following:

a. At least 7 days worth of medications and copies of prescriptions

b. Some form of payment (cash, checks, extra debit/credit cards or prepaid gift cards)
c. Pen and paper
d. Physical copies of local maps
e. Wheelchair equipment (e.g. patches for tires, correct allen wrenches for adjustments etc.)
f. Food and water (for you and any service animals)
g. Power packs, chargers or batteries for medical equipment you need to bring (CPAP, wheelchair batteries, hearing aid batteries, etc)
h. Flashlights, whistles and batteries
i. First aid kit
j. Catheters and gloves
k. Cell phone chargers, extra batteries or power packs
l. Emergency blankets, instant ice packs to prevent overheating and ponchos
m. Contacts or extra glasses
n. Emergency flairs
o. Another copy of your 'Emergency Info Packet'
6. Install the FEMA app or dial in to NOAA weather radio to be up-to-date on disasters or potential threats. (NOAA also has options for deaf and hard of hearing).
7. Sign up for Smart911- if you call 911, this program will provide the listener with important information about you in the case that you can't speak or someone is calling for you but doesn't know your medical info. It also allows responders to provide the best possible care upon arrival.
8. Wear medical alert tags/bracelets (often home security systems will offer these).
9. Set up home systems with voice activated devices to be able to quickly call 911 in an emergency (ex. Echo Dot, Alexa, Google Home etc.). If you have a watch that is linked to your phone, this can be helpful as well
10. For those who use a power chair, have a lightweight manual option available for emergency evacuations.
11. Other supplies that may come in handy in the home but may not fit your emergency bag:
a. Stair evacuation device (some slide down, some chairs 'click' down step by step and some are sling like for carrying a person)
b. Fire blankets and fire extinguishers
c. Fire evacuation masks (Evaculife makes products specifically for people with disabilities).
d. You should have fire blankets in your house (preferably near the kitchen where most house fires start) in order to extinguish fires. Fire blankets cut off oxygen supply, which is one of three elements on which a fire thrives. For this reason, however, they are not intended to cover your face as this will cut off your oxygen supply, as well.
12. Knowledge is the greatest resource! Take some time before an emergency happens to know what information and services may be available:

Smart911: https://www.smart911.com/ FEMA : https://www.fema.gov/office-disability-integration-and-coordination
Disasterassistance.gov : https://www.disasterassistance.gov/information/disabilities-access-and-functional-needs
Red Cross Disaster preparedness for people with disabilities (checklist included): http://www.disastersrus.org/MyDisasters/disability/disability.pdf
Emergency Preparedness Kit for People with Disabilities (Oregon specific called 'ReadyNow' but great resource for all people): http://www.ohsu.edu/xd/outreach/occyshn/upload/ReadyNowToolkit.pdf
Ready.gov: https://www.ready.gov/individuals-access-functional-needs
Build a Kit Video: https://www.youtube.com/watch?v=kJuDXorO9_g
NOAA for hearing users with loss: http://www.nws.noaa.gov/nwr/info/shhh.html
Also, the Pennsylvania Department of Health created a great chart on emergency preparedness for people with physical and mobility disabilities. http://www.health.pa.gov/My%20...
Finally, the National MS Society has some great resources on emergencies, disasters, and fire responses, including this website: https://www.nationalmssociety..... I would also recommend reaching out to a local MS Navigator to discuss local resources that may be available to you by calling 1-800-FIGHT-MS.
I hope these resources are helpful. Be well and be safe!
Do you have any recommendations for cooling vests?
Occupational Therapist Response
Juliann Hanson-Zlatev, OTR/L
Can Do MS Programs Consultant
Around 60-80% of individuals living with M.S. experience heat intolerance. A small rise in your body temperature -- as little as one quarter of a degree -- can make it harder for your nerves to send electrical impulses. This, compounded with the other symptoms of MS, can make you feel overheated, tired, and weak. Cooling vests can provide relief by absorbing your body's heat and sweat while cooling your chest and stomach. Some vests can be quite expensive, so you are smart to do homework first. Your MS doctor, nurse and rehab professionals can make recommendations based on your specific needs.
Can Do MS has worked with Polar Products. They have a wide variety of vests and a good understanding of MS heat intolerance. Their website is http://www.polarproducts.com/p...
As far as information on products and strategies, Active MSers, the Department of Veterans Affairs MS Center of Excellence, and the National MS Society has some good resources on keeping cool. The Society's Navigator Program can also connect you to local resources by calling 1-800-FIGHT MS. I'd also recommend this webinar and article by fellow Can Do MS Programs Consultant Beth Bullard. The Multiple Sclerosis Association of America's Cooling Distribution Program and the Multiple Sclerosis Foundation's Cooling Program provide financial assistance for people with MS to access cooling products.
I would like to know where there are resources to help remodel my kitchen for greater accessibility for myself with MS?
Occupational Therapist Response
Stephanie Nolan, OTR/L
Can Do MS Programs Consultant
First, I congratulate you on your initiative to modify your kitchen to make life easier for you and your family. Can Do MS believes strongly that the answer to a disability is mobility. You can stay active in the kitchen, while also being mindful of your fatigue and, most importantly, your safety. The first resource I would recommend is the National MS Society's Navigators, who are available at 1-800-FIGHT-MS. They can provide local resources to trusted contractors who specialize in kitchen modifications for your specific needs and abilities, as well as financial assistance opportunities to help make the modifications affordable. They can also connect you to others living with MS to share tips and suggestions.
The Society's website, www.nationalmssociety.org, has an extensive library of resources, including this brochure on adapting your home environment. Can Do MS can also provide ideas through our online resources, including this webinar on "unlocking barriers in your home" that I facilitated with physical therapist Mandy Rohrig. You can also view the slides of a presentation I co-presented with dietitian Baldwin Sanders on nutrition and kitchen adaptations: 1 Eating Well Eating Easy Take Charge Norfolk2016. Finally, MoveOverMS and AboveMS have some great ideas to make your kitchen more "MS Friendly."
Can a minor with MS apply for SSDI?
Social Security Disability Attorney Response
Jamie Hall, Esq.
Attorney-at-Law
There are multiple ways for a person who becomes disabled before age 18 to qualify for benefits. First, if the child has had a part-time job, they may be eligible under their own earnings history for Social Security Disability income (SSDI). For instance, earning only $3800 during two separate years would be sufficient to financially qualify an individual under age 24. Second, the child may be eligible for SSDI benefits if they have a parent who is receiving Social Security benefits under either a retirement or disability program. Third, if the family income and assets are low, the child may be able to qualify for benefits under the Supplemental Security Income program (SSI), which pays a much more modest benefit than SSDI.

Notably, the above addresses only financial qualifications; a claimant must also prove medical disability. Although disability claims on behalf of minors are challenging, they can be successful when significant limitations exist, the treating physicians support the claim, and the individual or attorney presents a well organized claim. I would recommend consulting with an attorney that specializes in SSDI to determine the qualifying factors in your particular situation. For more information on these changes, please view this webinar that I co-presented with Can Do MS Programs Consultant Coordinator and clinical psychologist Roz Kalb, as well as this guide from Can Do MS and the National MS Society.

Does the Fair Housing Act provide for free or discounted installation of a Pneumatic Vacuum Elevator in my house?
Response by Paula Hardin, MS News Columnist; reprinted with permission from Multiple Sclerosis News Today

You might think that the Fair Housing Act required multifamily buildings to have elevators, but no, it doesn't. For example, multifamily dwelling of four units that does not have an elevator is not required to have one. However, the ground floor units must be fully accessible (no steps). Policies like this cut the available housing stock for disabled people in half. How is that FAIR?
For equal access to housing, all housing would have to be accessible, designed to universal design standards. This would benefit everyone, just as the "curb cut effect" helped many people at street crossings.
Would you take an elevator or stairs?
Cost is the primary argument against mandating all multistory residences, including single-family dwellings, to have elevators. However, the cost would decrease with mandatory requirements, vastly enlarging the demand.
Truly fair housing requires all homes that are multistory, and all multifamily multistory dwellings, no exceptions, to have elevators.

Hear me out
Able-bodied people can choose from all available housing, even housing with elevators and universal design features. They can visit any family or friends living in any kind of home. People with multiple sclerosis (MS) often do not have that luxury.
Another feature that able-bodied people can manage, like basement laundry rooms accessible only by stairs, are usually assets for them. Actually, having no in-home laundry facilities has a disproportionate negative impact on people with disabilities and other vulnerable groups.
"Aging in place" would be much more possible with residential elevators. Mandating elevators for future housing would mean everyone could age in place.
Residential elevators cost too much now because the demand is artificially low. This creates a negative feedback loop: People don't put in residential elevators because they are too expensive, and residential elevators are expensive because there is no demand.
The following quote is from a report by the U.S. Department of Housing and Urban Development, Accessibility of America's Housing Stock: An Analysis of the 2011 American Housing Survey (AHS)."
"A quarter century later, our analysis of United States (U.S.) housing data suggests that although around a third of housing in the U.S. is potentially modifiable for a person with a mobility disability, currently less than five percent is accessible for individuals with moderate mobility difficulties and less than one percent of housing is accessible for wheelchair users.
The availability of accessible housing is critical to enable people with disabilities to live independent lives with a minimal amount of support. It is also essential to enable people with disabilities to participate in society by visiting the homes of friends and family. Housing that meets the needs of people with disabilities is increasingly important for the U.S. as the population ages."
Less than 1 percent of housing stock is accessible for wheelchair users.
ADA is not a building code
The ADA responds to civil rights needs. With rugged individualism the pride of the nation, and the sacrosanct nature of private property, some would resist mandatory elevators. Bathrooms are expensive too, but that won't be a feature eliminated from building requirements any time soon.
We could change that by bringing attention to the advantages of universal design housing at every level of government and pitching it to developers. Maybe even talking to elevator companies about increasing options for residential housing elevators.
Click and see the possibilities
Here's a video of a clear tube for one person to stand up in, though that wouldn't meet our needs with wheelchairs without enlarging it. Visilift, a home elevator manufacturer, has a video of a woman with severe knee problems that made stairs in her home impossible. Their octagonal version at 48 inches square might fit a wheelchair. Being able to fit in a tube with a toddler would be good, too!
Ah-ha, a company called Pneumatic Vacuum Elevators has an elevator that will fit a wheelchair! No surprise that they are located in Florida. Elevator Ready also has elevators for outside access.
It's not all or nothing
Changing home requirements to at least mandating the space for a potential elevator to be added (used for closets otherwise) would help, but would probably double the cost burden for a buyer with disabilities to install after purchasing.
People with disabilities and others will never have a chance for fair housing unless we persuade municipalities and developers that it will pay off on the primary sale and resale value.
But first, we need to start the discussion!
For information on your rights under the Fair Housing Act and guidance on financial assistance, contact a National MS Society Navigator at 1-800-FIGHT-MS.
* This article is the copyrighted material of Multiple Sclerosis News Today. Thank you to Multiple Sclerosis News Today for permission to reprint this article.
I am having increasing trouble stepping in and out of my stand-alone shower. I do have something to hang onto, but am having significant trouble lifting my leg over the shower pan lip. Any recommendations without spending major money on renovations?
Occupational Therapist Response

Stephanie Nolan, OTR/L
Can Do MS Programs Consultant
I am sorry to hear about your increasing difficulty getting in and out of your shower, and am glad you asked for support. We want to always keep you as safe as possible, while at the same time conserving as much energy as you can. Here are some general suggestions that hopefully will create new ideas and successes. Please keep in mind that every person and every shower is different. For the best results, you should consult an occupational therapist to get specific guidance and prescriptions for your specific circumstances.
Typically, I recommend that people remove their glass doors and replace them with a shower curtain. I know this can be a lot of work and some people prefer not to make big changes. However, this will allow enough room to use a "Tub Transfer Bench." This is one of my favorite shower safety tools. It's a bench that hangs a few inches over the edge of the shower lip just enough to allow you to sit on the edge of it, turn your leg in, and slide over into the shower. This completely eliminates the need to step over the lip of your shower, as well as the need to balance on one foot at a time while on a slippery surface. This bench is VERY helpful in preventing falls and injuries and runs between $60-130. You can find these at local pharmacies like Walgreens, RiteAid or CVS, as well as local hardware stores such as Lowes or Home Depot. You can also order it online at Amazon.com. Many churches and community centers also lend out these benches since most people who have had a knee or hip replacement use them for only a few months after their surgeries and then donate them. Here is a video of a few different techniques: https://www.youtube.com/watch?v=ckuZ4JoN8V4 .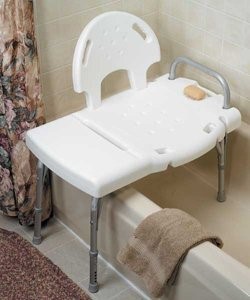 Please be aware that there are weight limits on these benches of 250 lbs. However, there are also "Heavy Duty" versions for anyone over that weight. I usually recommend the ones that have suction cups at the bottom to stabilize it. However, if the bench needs to come in and out, it can often be more challenging for other shower users.
I hope this helps you with your shower transfers and makes you feel more safe and independent at home.
I have a foot drop and still drive a car. How difficult is it to get and operate hand controls in a car?
MS Patient and Freelance Writer
Judy Lynn
(This response is reprinted by permission and with gratitude from Multiple Sclerosis News Today.)
When my physiatrist diagnosed my MS "foot drop," she wrote a prescription for vehicle hand controls. I was both elated and terrified. Could I drive long distances again? Arrive pain-free, able to do a short hike? Could I regain the freedom of knowing I would not have to cancel an outing because I couldn't drive there? After many months of increasing limitations, I was giddy at the prospect of less pain and more freedom. BUT … What if I couldn't do it? Maybe I would never get the hang of it … or worse, what if I got in an accident? I kept thinking about the time my grandmother hit the gas instead of the brakes and took out my uncle's front porch!
I checked in with my State Department of Vocational Rehabilitation (DVR) caseworker (look into yours if you haven't). DVR, along with the National MS Society, covered the nearly $3,000 for the lesson, certification, and installation because I use my car for work. They assessed my vehicle and my abilities and recommended "mechanical" hand controls. These can be turned off and on so that others can drive the car. (While there are costs to be considered and installation details will be different for each person and each automobile, getting hand controls can be quite easy!)…
I give you this history as a way to set the stage for my adoption of hand controls in my vehicle … a way to say, "If I can do it, believe me, you can too!"
Of minor importance
No one can see that you are using hand controls. Stop worrying about how it looks!
Yes, this does give you some "street cred" when using your handicap placard.
Improves muscle tone of triceps and forearms. (I take my perks where I can!)
You may need to chat less with your passengers, because new driving skills require greater concentration.
It's OK if people think you are rude because you don't wave back. Really, it's OK.
You can probably beat that kid in the Mazda off the line… if you wanted to. Hand controls have some serious pick-up!
Of moderate importance
Put the car in park, or feet on the floor brake if able, while you exchange cash, ticket, etc., at drive-up windows or machines. (Both brakes always work.)
Take a drink of your coffee, change the radio station, or adjust windows or heat when you are in cruise control or stopped at a light.
Use whatever music technology you have. I mastered the car's Bluetooth and my iPhone music playlists in order to avoid being trapped with crummy radio commercials.
Buy a water bottle with a pop-up top. No time to screw a cap back on when the light turns green!
Roll up windows before getting on the freeway. If you forget, just pretend you are a carefree youth until you get cruise control going. Hopefully there aren't any loose papers in the back seat.
Park a little farther away from high-pedestrian areas. I've come to appreciate those handicap parking spaces that are not right in front of the door!
Turn signals, or indicators, are tricky. It depends on the placement of your hand controls and how far you have the accelerator pushed down. In the beginning, err on the side of turning it on early. I'm hoping for a voice-activated turn signal one day.
Of major importance
Master cruise control. It's your best friend.
Always use your side mirrors and rear view mirror, and turn to look around you before backing up. I also roll my windows down a little and keep my music off. I used to turn and look over my shoulder while backing up, but this doesn't work with a hand control.
Watch your speed. The hand accelerator requires less force than a foot pedal.
Leave lots of space between you and other cars.
Don't be afraid to pull over and regroup. Maybe you need to adjust the heat, turn off that Kenny Loggins song, scratch an itch, blow your nose, or eat a couple of almonds. You may have to pull over to do these things safely.
Believe in yourself!
It took a few months, but eventually my mechanical hand controls became my new normal. The instructor was right, I'm a natural! And so are you! If you need hand controls but have been afraid to try them, please reconsider. And if you have used them yourself and have some tips for me, please share!
Judy's two articles on hand controls, as well as other great resources, can be accessed on the Multiple Sclerosis News Today website, https://multiplesclerosisnewstoday.com/).
I am a caregiver of a 65yr old female with MS. I have noticed her recently becoming very weak and unable to move when using her walker. What should I do? Also, how I can help her exercise and stretch in light of these increasing mobility issues?
Answer:
Physical Therapist
Amanda Rohrig, PT, DPT

Can Do MS Programs Consultant
Serving as a caregiver/support person for someone you love can be a truly joyful blessing that can offer many benefits to both parties. It is also a responsibility that, at times, have heavy tolls- physically, emotionally, and mentally- even though you feel proud of the role you play in your loved one's life. You may find yourself experiencing a wide range of emotions as you adapt to the day-to day variability of this unpredictable disease. Knowing when to help and how to help when changes occur can be challenging. Despite your questions and concerns, please remember your attention and care make a huge difference!

First, I would recommend having an open conversation with the person for whom you are caring. Confirm that she is experiencing what you are observing. Then, potentially together, consult with her health care team (especially a physician or MS nurse) to determine if there are any appropriate and/or necessary changes that need to occur with the medical management of her MS, as well as a request for a prescription for physical therapy. A consultation with a physical therapist who understands MS can help to identify abilities and areas of improvements. For example, there may be alternative bracing or mobility devices in combination with specific exercises that may be helpful. Often, implementing some key fatigue management strategies or environmental changes can help, too. Most importantly, identifying when to help versus when to empower the person with MS to do an activity or exercise independently is key to strengthening mobility and for both of you to live well with MS.
In conclusion, seek that consultation with a physical therapist to help both of you learn to optimize exercise and mobility. In the meantime, consider education and investigation into some of the online resources from Can Do MS (there are some excellent webinars and articles pertaining to exercise, flexibility, and mobility are available on the CDMS website, www.mscando.org) and the National MS Society (www.nationalmssociety.org). I would encourage you to explore the Stretching for People with MS as well as the Stretching with a Helper for People with MS manuals from the National MS Society. These 2 resources would be appropriate to bring along to a physical therapy session. With the help of a PT, you and your loved one can identify and prioritize those that may be appropriate for your situation. Thank you for your question and best wishes for health, wellness, and happiness!
Finally, join me and renowned psychologist Roz Kalb, Ph.D., at the upcoming Can Do MS webinar on support partners. This free, interactive presentation will offer some great suggestions on the types of questions you are presenting here, and will connect to MS care experts that can provide support, as well as other caregivers going through similar situations. You can register for this webinar, broadcasting live at 8pm Eastern on Tuesday, October 11 (if you cannot attend live, the webinar will be archived and available to stream at your convenience), by completing this brief online form.
How do you use the toilet when you are in a wheelchair? I raised my toilet, widened the doorway, and installed grab bars. I cannot pivot to seat myself and struggle to stand again. I cannot remove the arms from the wheelchair that the PT ordered. There must be another way. What does everyone do?
Answer:
Occupational Therapist
Stephanie Nolan, OTR/L
Can Do MS Programs Consultant
Hello Marla! First off, I am sorry to hear that you are struggling with transfers to your toilet. Using the bathroom independently is very important when people are trying their best to maintain their dignity and I hope I can provide some helpful advice. Sadly, it sounds like your wheelchair limits the chances of using a slide board for transfers which would have been my first recommendation. One thing you may consider is finding out if your chair is able to be changed or adjusted. Is it a custom fitted wheelchair or a standard chair? In many states and with many insurances the standard wheelchairs are 'rent to own'. If that is your case and you do not own it yet, you could consider contacting the company to find a chair that would fit your needs better. If it is a custom fit chair you could also contact the provider of that chair and ask what options they can offer to modify your chair because it no longer accommodates your physical needs.
If neither of those options work, here is another solution: I have helped some people transfer to their toilet forward with a grab bar placed at the back of the toilet. This would require removing lower body clothing prior to the transfer which does take more energy (some women choose to wear skirts and velcro underpants or briefs to make this easier). I know it sounds strange but it works very well for some people as long as there is a little strength in their legs to push up and clothing management isn't too challenging for you. This is how it would work- Line your chair up to the toilet facing it and get as close as you can with your knees apart. Remember to lock your breaks. Place your feet on either side of the toilet and scoot as far forward in the chair as you can. Take hold of the grab bar behind the toilet. Push up with your legs and pull forward with your arms toward the toilet seat. This will result in you sitting straddled over the toilet facing the back wall. Coming back off the toilet may be more of a challenge depending on your strength and the position of the arm rests on your chair. Reach behind you to the arm rests and push up while you use your legs to push back toward the wheelchair. At this point you will be able to put your clothing back on. I would suggest trying this with a family member who is able to assist the first few times while wearing a gait belt for safety. It will take time and practice to make this type of transfer smooth, but it does work well for some people.
Not seeing your posture, strength, endurance and environment makes it a little more challenging when trying to determine the best/safest option for you, but I sure hope this helps you be more independent at home. If this doesn't work, I suggest seeking an occupational or physical therapist in your area if it is within your means. An OT or PT, especially ones with a background in MS, could further assess your home setup and your physical needs for other transfer options.
Do you have any tips on how to get through the TSA lines at the airport faster? My fatigue makes it harder for me!
Answer:
Editor of Emerging Horizons, Author, and Travel Expert
Candy Harrington
Air travel can certainly be fatiguing. Sometimes, the hardest part is just getting to the plane! Here are some tips to make checking-in and getting through security easier, less tiring, and less frustrating. In addition to referring to my tips from the Accessible Travel Basics webinar, which is available to stream from your home computer, here are some ideas to consider when facing the TSA checkpoint:
You don't have to take off your shoes if you're physically unable to do so.
You are entitled to private screening.
You can take your liquid meds through the checkpoint (even if you have more than 3 ounces), but you need to inform the screener in advance.
If you can't do something during the screening, then just tell the agent you are physically unable to do it.
Also, here are some resources that you should consult when planning your travel. Don't be afraid to ask questions!
TSA Website
Outlines the screening process for passengers with a disability.
www.tsa.gov/travel/special-procedures
TSA Care Hotline
Call at least 72 hours in advance for airport specific security questions and concerns.
(855) 787-2227
Accessible Travel News
http://emerginghorizons.com/
I have cognitive/memory issues that are affecting my performance at work. Fearing that I am close to losing my job, I am currently applying for new job opportunities. However, I am concerned that I am going to have the same issues with my new employer. I have difficulty with organization skills and remembering tasks. If you have any suggestions, they would be greatly appreciated!
Employment Specialist Response
Christina Foster, MA, CRC
Employment Services Manager for the National MS Society
First, if your insurance covers it, you may want to ask your neurologist for referrals to a neuropsychologist for cognitive testing to address your cognitive and memory issues. These referrals can help provide you with a baseline to determine your current functioning and to make some initial recommendations of techniques or tools that can help reduce the impact of this impairment at work.
There is a free and confidential resource called the Job Accommodation Network (JAN) that provides information about accommodations to employees and employers as well. There is a wealth of information on their website http://askjan.org, and you can also call them at 1-800-526-7234. They have an article specifically for individuals with MS: http://askjan.org/media/MS.html
In order to request accommodations, you would need to disclose to your current or future employer. The National MS Society has a publication with great information called The Win-Win Approach To Reasonable Accommodations (http://www.nationalmssociety.org/NationalMSSociety...).
There is also a great deal of information on the topic, such as who to tell, when to tell, what to tell and how to tell which can be found here: Disclosure Decisions (http://www.nationalmssociety.org/Resources-Support...).I also wrote an article on employment and MS for the Pennsylvania Keystone Chapter's MS Connection Newsletter at https://issuu.com/westernpa_nmss/docs/winter_2016.
For more information you can contact the National MS Society at 1-800-344-4867 or ContactUsNMSS@nmss.org.
Do you have experience with how to overcome challenges of getting into bed, out of bed, and moving in bed to find a comfortable sleeping position?
Bed mobility is often impacted by the type of bed or mattress you have and the amount of access space around the bed.

A suitable bed height would be 18 inches as it is similar to most chair heights. Your height or the height of your mobility device might play a role in what works best for you as moving along an even surface is the most efficient way to transfer. If you need to raise the height of your bed, you can purchase bed frame height extenders at many local stores and on-line. Ensuring you have adequate room around the bed and, most importantly, on the side where you enter and exit, eases transfers. Consider a queen or full sized bed over a king for more space in your room. Remove clutter and excess furniture to improve access to your bed. If it's only you sleeping in the bed, it's okay to move the bed closer to the wall to give you greater access on the side you use. Your mattress selection can also impact bed mobility. If your mattress has a pillow top or is a tempur-pedic foam that conforms to your body, it can be more difficult to roll or shift in bed. A plush or firm mattress offers a more stable surface to move on. Sleep number mattresses and adjustable beds allow you to change the firmness or shape of the bed, but can be cost prohibitive for many.

There are adapted devices that aid in moving in, out and around in bed. The key is finding the device that works for your situation. Bed assist bars or transfer poles help when getting in and out of bed, and moving from lying to sitting. Bed pull-up straps or ladders aide in pulling up and moving in bed. These aides come in many different sizes and varieties and can be found in medical supply stores and on-line.
To find a bed and mattress that meet your particular needs, please consult an Occupational Therapist, Physical Therapist, or sleep specialist. Professionals on your health care team are the best resources to find the best solutions to overcome your particular challenges.
For more information, please follow these links to articles on adapting to your home with multiple sclerosis by the National MS Society and the Department of Veterans Affairs:
http://tinyurl.com/AdaptingYourHomeEnvironment
http://tinyurl.com/SelectingMSMattress
Beth Bullard, OTR
Occupational Therapist & Can Do MS Programs Consultant

I am a wheelchair driver, have had MS since 1992 and am 75 years old. My problem is my lift. I have had to call the local volunteer fire department to help me in -20 degree temps to wind up the lift manually. Any advice on what I can do?
Occupational Therapist Response
Linda Walls, OTR
Can Do MS Programs Consultant
I would like to share a couple of thoughts regarding your dilemma with your wheelchair lift.
First, I would like to suggest that the extreme temperature of -20 degrees can cause many mechanical devices to not work. In these temperatures, the lift may not work, but the lift is not damaged. Once the temperatures rise, the lift will probably resume working. If you feel you still have concerns, an inspection from a company that installs wheelchair lifts may ease your fears. Don't let one negative experience influence your confidence in a lift which has probably worked for you many other times.
Second, I think you should feel positive about your ability to use your community resources. Your community volunteer fire department is an appropriate resource for you to call upon in such an extreme situation when temperatures are that low. Follow up with the volunteer fire department by sending a thank you card, or even visiting them in the spring and bringing them a basket of cookies. They will appreciate your thoughtfulness and gratitude. This will then help you to build a relationship with the volunteer fire department should you need them again.
A final thought may be for you to look at this situation as a motivator to explore other mobility options that may be available in your area. Talk with the MS chapter in your area, if they have suggestions for mobility for people with power wheelchairs. You can also contact the local chapter for people who have suffered a spinal cord injury and are in power wheelchairs.
Most important is that you do not allow this unusual situation stop you from being active! It is important to have your independence and ability to get out of your home and access your community.
I have primary progressive MS and have recently gotten a brace for foot drop. Is there anyone that makes these customized to the patient? The one I have is carbon, and I can only wear it with tennis shoes. I live in Florida, and it is hot here; tennis shoes are miserable. The brace does not fit around the heel or going up the leg, and I was told it is one size fits all. I am an average woman, weigh 140 pounds, and it does not work for me. There must be a better way.
Physical Therapist Response
Patty Bobryk, PT
Can Do MS Programs Consultant
There are many styles of braces (also known as ankle-foot orthoses - AFO's) that are utilized for foot drop. The main purpose of the brace is to hold the foot and ankle approximately at a 90 degree angle to the leg so that as you swing your leg through to take a step and your toes and/or foot do not drag. A properly prescribed and fitted AFO can make a huge difference in your walking pattern, keeping the mechanics of your walking as close to normal as possible and also decreasing the amount of energy it takes to walk. Without an AFO, many people are at high risk for falling because of their foot drop, or they develop painful musculoskeletal problems that occur because of poor body mechanics.
The best way to obtain an AFO is to ask your physician to refer you to a physical therapist who has experience in gait analysis and bracing. If you physician does not know a therapist in your region, contact your local chapter of the National MS Society for a referral. Your walking pattern should be thoroughly assessed and recommendations should be made by the therapist on the type of brace that is most appropriate. Ideally, the orthotist (the person who fabricates the brace) should be included in the analysis and your team (your physical therapist, orthotist and YOU) should make decisions on what brace is right for you.
Braces can be custom-made which can provide the necessary support and can be tailored to your needs. They are typically worn in a shoe that ties because you want the shoe and the brace to act as one unit to provide the support you need. Having said that and living in Florida myself, I understand the heat factor when it comes to close toed shoes. With some strict parameters, I have worked with my patients to use their brace in a sturdy sandal (the sandal MUST have a back strap and hold your brace in it, otherwise the benefit of the brace is lost).
Another option to consider is the technology of functional electrical stimulation coupled with the walking cycle. As you take a step, a small electrical current causes a contraction in the muscle that lifts your foot so it does not catch as you swing through. The two companies that manufacture these units are Bioness and WalkAide. You can learn more about them on their websites (www.bioness.com and www.walkaide.com). The units are expensive and not all insurance companies provide coverage for them. You can work with your therapist to do a trial to see if this is something that you may be a candidate for.
I agree that you need to have a product that works for you. You may have to advocate for yourself and contact your insurance company to discuss your particular situation and see what can be done to obtain the appropriate brace for you.
Each day, I spend at least an hour commuting to and from work, along with working eight hours. By the time I get home, I am not motivated to do anything. Sometimes, my lack of energy is due to fatigue, but other times, it's just an attitude problem. How do I get out of this rut?
Psychologist Answer
Peggy Crawford, PhD
Can Do MS Programs Consultant
Jack, thank you for your question! It sounds like you are dealing with several big issues--fatigue, changes in your mood and stress all at the same time. We know that energy level, mood and stress can each affect the other making for complicated symptoms. Just as increased fatigue can negatively affect your mood and your ability to cope with stress, reduced fatigue can result in better mood and attitude and more effective coping. Because it can be difficult and sometimes impossible to sort out what is causing what, taking some action and experimenting with a change in one area can be helpful.

For example, addressing your fatigue could be a good starting point. You have a demanding schedule that includes a significant commute and long work day that could wear down someone without MS. You might consider options for getting to work such as carpooling or public transportation, changing your work hours even by 30 to 60 minutes to avoid rush hour, and/or working 4 slightly longer days with a day off in the middle of the week. Sometimes, it can be helpful to have even a brief (15 to 20 minute) period of down time when you first arrive home from work to make the transition from work to home life. Simplifying chores/tasks at home such as meal preparation, laundry and cleaning can reduce what you describe as not feeling motivated. For example, you can plan meals for the week so decisions don't have to be made at the end of a long day, use a crockpot, and cook larger amounts of a favorite food and freezing leftovers for busy days. Setting realistic and attainable goals are essential ingredients to reducing feelings of being overwhelmed. Some people do this by breaking an activity into smaller parts and spreading them out over one or several days. Throwing a load of clothes into the washer before you leave for work and then putting into the dryer at the end of the day is an example of this strategy. Another option is to set a time limit and do what you can in 30 minutes.
In addition to having effective strategies for getting things done and feeling good about your accomplishments, it is important to have things to look forward to, e.g., phone call with friend, a movie or show (preferably something funny) you've wanted to watch, a new book you've been meaning to read, or a special dinner you enjoy. Getting a good night's sleep can help you to start off the day with your battery charged. If MS symptoms are interrupting your sleep, talk with your MS provider. If you have trouble falling asleep because you are not able to turn off your mind and are thinking about all the things you need to do the next day, write them down before you get into bed.
It's likely that if you make positive changes in one area, other symptoms will also get better. If after making some changes to better manage your fatigue, mood and stress level, your attitude and level of motivation do not improve, it might be helpful to talk with a mental health professional whom can assist you in determining if you are depressed and/or unusually anxious. Problems with mood are very treatable. If your fatigue does not improve, it might be helpful to meet with an occupational therapist especially one who has experience working with people who have MS to generate additional strategies for managing your fatigue.
Remember, you deserve to feel better than this!
I use a walker, but feel totally incapable of leaving my apartment when there is snow and/or ice outside. How do I get around?
Occupational Therapist Response
Laura Kingston, OTR/L
Can Do MS Programs Consultant
Thank you for your question, especially as we head into wintertime. I am sure many people are in the same situation if they live in cold weather climates!
I would first recommend trying to talk to your apartment manager, friend or family member to see if they could do a better job salting the pathway and shoveling the snow around the entry point to your apartment door. They should be able to accommodate this request. I would also make sure your mode of transportation (car, shuttle, etc.) is as close to your apartment door as possible to decrease the distance you have to go. If you do have someone picking you up for your appointments, I would consider asking them to come up to your door in order to assist you during the inclement weather to prevent a fall.
Footwear is particularly important in the winter. Chose a pair of shoes that gives you the best support and traction when out in the elements. I have recommended to clients that they consider purchasing metal cleats that either are built into your shoes or that can easily attach to your shoes to help prevent slipping.
As far as using a walker outside, I would make sure that the posts have walker ski glides on them to allow for easy control over your walker vs. standard posts with rubber caps on the ends. You can order these from any medical supply store in your area or from a website such as Amazon.
Lastly, I would recommend a home safety evaluation which your MD could order to have a Physical Therapist come out to your home and make further recommendations to increase your safety and confidence.
I hope these tips help make your winter more manageable.
I have been experiencing more balance issues. I currently live in an older home that is not handicap accessible. How do I determine if and when and how I need to change my aspects of my house and other areas?
Occupational Therapist Response
Anna Cotton, OT
Can Do MS Programs Consultant
Hello!
Thank you for your question. You are smart to think about making changes to your home and planning for the future now. Many people wait until a major event happens and then wish they had made changes to their home sooner. I recommend starting now so you can put more thought and time into your modifications and be able to enjoy a safer, more comfortable home now and into the future.
I suggest you think about which activities in your home are the most difficult and use that information to begin prioritizing projects. For example, do you have trouble safely getting into your home, getting around in your bathroom or preparing meals in your kitchen? Are you using a mobility aid such as a walker or wheelchair and not able to access parts of your home because of stairs or narrow doorways? Also, consider what your budget is and what help you have to make home modifications. From this information you can make a plan and start making changes.
You mentioned balance issues in your question, so I'll provide you some examples of small and big changes you can make to create a safer environment.
Make sure your lighting is adequate in all areas of your home including entrances, hallways, bathrooms and the kitchen. If it's not, you can simply install higher wattage light bulbs and/or add night-lights in areas of low light.
Remove tripping hazards such as throw rugs and cords off the floor.
Widen doorways to be able to fit a walker or wheelchair through. It can be especially common in older homes for bathroom doors to be too narrow for a mobility aid, and this creates a big fall risk.
Consider making large changes to allow for all your essential living space to be on one level including a full bathroom, bedroom, kitchen and laundry area.
As you can see, creating a more accessible home can run the gamut of small and large changes. As you begin to think about the modifications you need to make, don't hesitate to reach out for help. An occupational therapist can assess your home and give you recommendations. You can ask your physician for a referral. Additionally, look into community-based groups, such as Rebuilding Together (http://www.togetherwetransform.org), whose volunteers help repair and modify homes for those who can't afford to do so. I applaud you for being proactive and starting the process now. Beginning with small changes now will make your home safer and more enjoyable for years to come.
I am looking into purchasing a mobility van. However, I gave up my driver's license this year and have multiple people who drive me places in the PTCruiser that I own (it has hand controls). I am trying to find out what the insurance issues would be for multiple drivers, given that I would ALWAYS be the passenger. My insurance company wanted the info about the vehicle, but I do not yet have one!
Insurance Sales Representative
Misty
Progressive Insurance, Denver, CO
The answer to your question depends on where the van will be registered because every state has different laws concerning insurance coverage. In Colorado, you would need your own coverage for the van even if you were never the driver. However, there is special "helper" coverage that is very affordable. Because you are unlicensed, you could qualify for this policy, but you need to specifically name the "helpers" who will be driving the van. There is no limit in Colorado to the number of helpers you name, but, generally speaking, the more drivers you have, the more expensive the premiums. The cost of this insurance will be based on several factors, including the driving history of your helpers and the specifics related to the van itself. Therefore, an insurance company could not give you an accurate quote unless they know the details of the van. Once you have more information, call Progressive Insurance and we'll take good care of you!
I have had MS for 13 years. I have gotten worse in the past 2 1/2 years. Since this has happened it has been much harder for my family to care for me. I have a family and my husband is having a hard time dealing with this. I need to make our home handicap accessible so I can do things much easier. I know I'm capable but it's very hard without the right setup. Can you help me to get started to take my life back and be the person I know I can be?
Occupational Therapist Response
Ann Mullinix, OTR/L
Can Do MS Programs Consultant
First, I want to commend you for your motivation and determination to enhance your independence! I know you are working very hard to care for your family and keep up with the demands of life. It is not easy, and your health is a priority, which has become more consuming over the past 2 ½ years.
Know that yes, there are ways to modify your home environment to enhance your independence and there are resources in the community to assist.
Your first step will be to contact a MS Navigator through the National MS Society (1-800-582-5296). An application will be sent to you to fill out to receive financial assistance/start the process for a home evaluation by a medical professional, such as an occupational or physical therapist, pending on who is available where you live. A home evaluation will give you the specific recommendations you are looking for to make your home handicap accessible.
Modifications that are made to homes include structural adaptations such as increasing width of doorways for accessibility; railings, ramps, or stair glides, if stairs are a challenge. More minor changes may include obtaining durable medical equipment such as grab bars in the bathroom or shower chairs; bed rails and commodes. Other examples of easy modifications include changing doorknobs to levers, and hinges on doors to swing clear hinges. Some modifications don't require purchasing or installing anything, but only simple re-arrangement of where frequently used items are located for easier, energy saving convenience. The MS Navigator will also be able to assist you will obtaining items needed, and know there is grant money for medical equipment, daily living aides, and even household chores!
There are many ways a home can be modified, from simple to more complex, and a health care professional's evaluation will give you the specific direction you need to take. With the right set up, you can do it and like you said Maria, you can "take your life back."
How can I find assistance in getting my husband, who has multiple sclerosis, a motorized wheel chair? He is on full disability, and I work full time making a minimal salary. I hate to see him suffering and trying to walk, which is a hazard for him. He is trapped in our home, and when we leave the house, it is risky for him to walk. Any suggestions or assistance would be greatly appreciated!
Physical Therapist Response
Mandy Rohrig, DPT
Can Do MS Programs Consultant
Thank you for your question. I do hope I can provide you and your husband some guidance.
If your husband receives Social Security Disability benefits and has Medicare as his primary health insurance, he should be eligible for a power wheelchair with Medicare helping to cover the cost. The steps he should take to access this benefit are as follows:
Contact a physical therapist who is familiar with multiple sclerosis and/or power wheelchair assessment and fitting. The physical therapist can help you connect with a wheelchair vendor that can show you the many options available to you in terms of power mobility. A key component for Medicare, or any insurance for that matter, to cover the expenses for a power wheelchair is justification of need. Documentation from the physical therapist and the physician demonstrates the need for a power wheelchair. The physical therapist, wheelchair vendor and physician should all be familiar with the necessary language.
Have a conversation with the health care team about the anticipated uses of the power wheelchair. Will the wheelchair be used in the home, community, or both? Will you be able to transport the wheelchair in your current vehicle or will you need to consider a van? Will you be able to access your home (entrance, doorways, etc) with the power wheelchair? These are just a few questions to consider. I would highly recommend having additional conversations with the wheelchair vendor and physical therapist regarding the anticipated use.
Investigate, trial, and select the power wheelchair that best suits you. Then, request a prescription from the neurologist for a power wheelchair. The physical therapist and the wheelchair vendor will help define what needs to be included in the prescription.
I wish you and you husband the best as you start on this journey. I do hope the wheelchair you select brings improved mobility and great joy to your lives.
My sister can no longer write well. What equipment or tools do people with MS use to keep track of phone numbers, appointments, etc. when they can no longer read their own writing?
Occupational Therapist Response
Juliann Hanson-Zlatev, OTR
Can Do MS Programs Consultant
This is a good question! This can be a distressing turn of events, but the good news is that there are a variety of ways to adjust and accommodate limited handwriting.
An important aspect of making any big change in life is recognizing that there will need to be an adjustment period where the "new" form of writing will improve to the individual's needs and satisfaction. In other words, it might take a little time and practice to come "up to speed" on a new system.
If your sister enjoys technological systems (computers, iphones, etc), then she will be in good shape to shift to technology to answer her writing/scheduling needs. Even if she is not, Apple products make using their systems very easy, and you can get a lot of help that is simple to come by to make the system work well. (You can trust me on this from experience!!)
If technology is not your sister's favorite tool, then there are a number of handwriting assists that she could try to see if they smooth out her coordination in order to make writing useful again.
1) Technology. I have a client who is blind and uses an iphone with voice activation to write and send emails, texts, schedule and make calls. As you can imagine, this includes limited interaction with the keyboard as well. A computer can be used with voice recognition software also.
2) Sometimes keyboarding is actually easier than writing because upper arms can be stabilized while typing, and at that point, I recommend switching to a computer that interfaces with your phone to schedule, write notes, etc. since the information can be easily shared between devices. Again, I am an Apple fan, simply because their products are simple and easy to use, but the other businesses do this well, too! She may want to see if using her finger on a Smartphone is easier vs. using a stylus. I would encourage her to try both to see what works best for her.
3) Hand-writing Tools: There are a number of products out on the market to help with handwriting, and this is best decided by use. Your sister may wish to visit a local outpatient OT to see what they have available or to discuss her situation specifically for specific recommendations. A few of the choices:
1- pencil/pen grips
2- weighted pens
3- easy glide writer
4- ergowriter
5- klick pencil holder
6- ring pens
7- magnetic pens
8- claw pen
9- wrist hold down
As you can see, there a multitude of choices, some of which may be ideal for your sister and some of this would not be ideal. If she decided to pursue a handwriting aide or tool, I would recommend a visit to an occupational therapist to exercise her options. Sometimes using a slanted writing board can be helpful, in addition to coordination and strengthening exercises!
I had a client whose handwriting became very challenging, but after a short rehab program involving coordination, strengthening and stretching, she was able to write again to her satisfaction.
I hope this answer has been helpful for you and I thank you for asking a good question, since it is usually a disruption of the "little" events in our life that cause us considerable frustration!