Tune in on the first Wednesday of every month from 7:00 pm - 8:00 pm ET.
Positive, practical, and easy to join, Webinar Wednesdays are your opportunity to stay up to date on the latest strategies and research for your health. Each webinar is hosted by leading healthcare professionals in the MS space and includes plenty of Q&A time for your questions.
Like all of our programs, these webinars are completely free! Check out our complete lineup of webinar topics for 2023 and register for the series today.
Sign Up for Webinars
You only need to register once for the complete 2023 series. You will receive a confirmation email upon registering. Reminder emails will be sent 24 hours and 1 hour prior to each webinar. To access the webinar, locate your reminder email and click "Join Webinar."

February 1st, 2023 @ 7:00pm - 8:00pm US/Eastern
Fatigue taking the fun out of life? Join this webinar to learn our top tips for making the most of your energy! We'll cover strategies to increase your energy, tactics to simplify daily tasks, and ideas for how you can explain MS fatigue to other people who just don't get it.
Register Now

March 1st, 2023 @ 7:00pm - 8:00pm US/Eastern
Does your brain feel foggy, sluggish, confused, or out-of-synch with others around you? Perhaps planning and decision-making have gotten harder or your organizational skills seem to have flown the coop? Maybe your brain just seems to hit a wall sometimes? Changes like these are common in MS but challenging for people with MS and their support partners to understand. Join our webinar to learn the facts from cognition experts and hear some practical life hacks for managing daily tasks, improving conversations, and staying on top of your to-do's.
Register Now
CLOSED CAPTIONING
Closed captioning is available on archived webinars, which are available here within 24-hours of the live event. To access subtitles, click on the teal "Watch" button. When the Youtube® video appears, click on the white CC box on the bottom toolbar. A red line under the CC box means closed captioning is activated.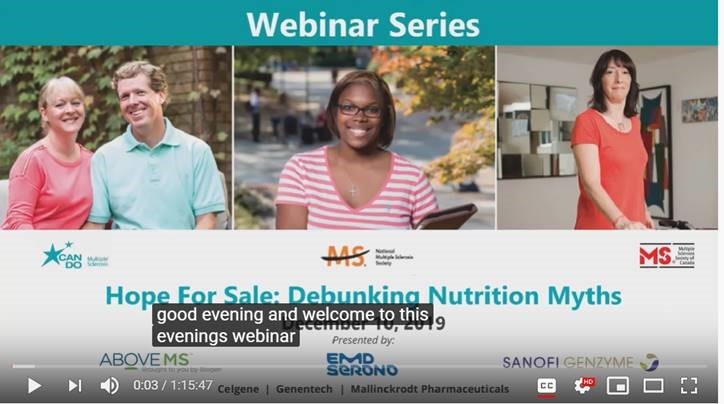 These programs are possible thanks to the generous support of the following sponsors: