Tune in on the first Wednesday of every month from 8:00 pm - 9:00 pm ET.
Join our free, live webinars to learn about various aspects of living with MS and how to manage common symptoms and challenges. Register today, hear from MS experts, and ask your own questions!
Register just once for the entire 2021 series.
You will receive a confirmation email upon registering. Reminder emails will be sent 24 hours and 2 hours prior to each webinar. To access the webinar, locate your reminder email and click Join Webinar.

November 3rd, 2021 @ 8:00pm - 9:00pm US/Eastern
Presenters:
Lindie Schreiner, PTA
Ken Nowack, PhD
The holidays are filled with joy, gratitude, and loved ones…but they can also be stressful.  What do we know about stress and MS and the potential ways to help manage it? 
Register Now

December 1st, 2021 @ 8:00pm - 9:00pm US/Eastern
Presenters:
Rosalind Kalb, PhD
Mandy Rohrig, PT, DPT
Kathy Zackowski, PhD, OTR

As we head into the New Year, it's exciting to look back at the progress that's been made through MS research in 2021. Participants and their support partners will hear about new developments in MS wellness research, wellness interventions, and rehabilitation strategies.
Register Now
CLOSED CAPTIONING
Closed captioning is available on archived webinars, which are available here within 24-hours of the live event. To access subtitles, click on the teal "Watch" button. When the Youtube® video appears, click on the white CC box on the bottom toolbar. A red line under the CC box means closed captioning is activated.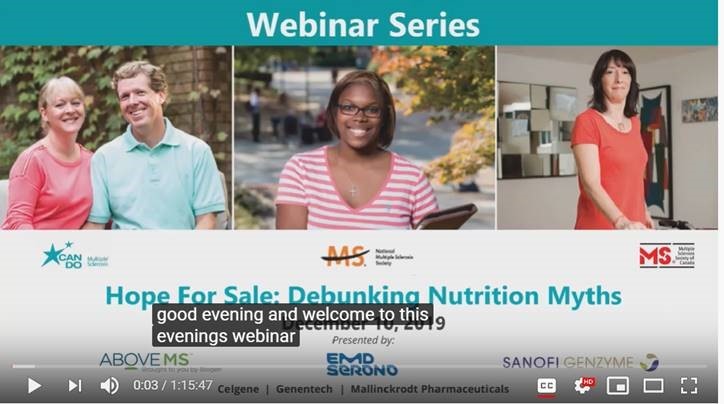 These programs are possible thanks to the generous support of the following sponsors: