Tune in on the first Wednesday of every month from 8:00 pm - 9:00 pm ET.
Positive, practical, and easy to join, Webinar Wednesdays are your opportunity to stay up to date on the latest strategies and research for your health. Each webinar is hosted by leading healthcare professionals in the MS space and includes plenty of Q&A time for your questions.
Like all of our programs, these webinars are completely free! Check out our complete lineup of webinar topics for 2022 and register for the series today.
Sign Up for Webinars
You only need to register once for the complete 2022 series. You will receive a confirmation email upon registering. Reminder emails will be sent 24 hours and 2 hours prior to each webinar. To access the webinar, locate your reminder email and click "Join Webinar."
October 6th, 2022 @ 8:00pm - 9:00pm US/Eastern
Presenter:
Samantha Domingo, PsyD, DBSM
As if MS fatigue wasn't enough, it's not uncommon to have sleep troubles as a symptom of MS. Learn how your sleep can be impacted by the disease itself as well as other symptoms. Then, learn strategies for getting your sleep back on track.
*Please note that this webinar will fall on a Thursday instead of the usual Webinar Wednesday due to the Yom Kippur holiday. 
Register Now
November 2nd, 2022 @ 8:00pm - 9:00pm US/Eastern
Presenters:
Roz Kalb, Ph.D
Shannon Schneider, OTR/L
MS can impact emotional and physical intimacy in a variety of ways. But your medical providers may not ask about it and you may not feel comfortable bringing up the subject. Join this webinar to get the facts, including the cause of changes in sexual feelings and responses, and the strategies available to help manage them.

Register Now
December 7th, 2022 @ 8:00pm - 9:00pm US/Eastern
Presenter:
Meghan Beier, Ph.D
Do you know how resilient you are? Resilience is the ability to bounce back from challenges and disappointments, take the next step forward, and continue working on your personal goals. Learn to recognize your resilience, strengthen it, and see it when it shines through your loved ones.
Register Now
CLOSED CAPTIONING
Closed captioning is available on archived webinars, which are available here within 24-hours of the live event. To access subtitles, click on the teal "Watch" button. When the Youtube® video appears, click on the white CC box on the bottom toolbar. A red line under the CC box means closed captioning is activated.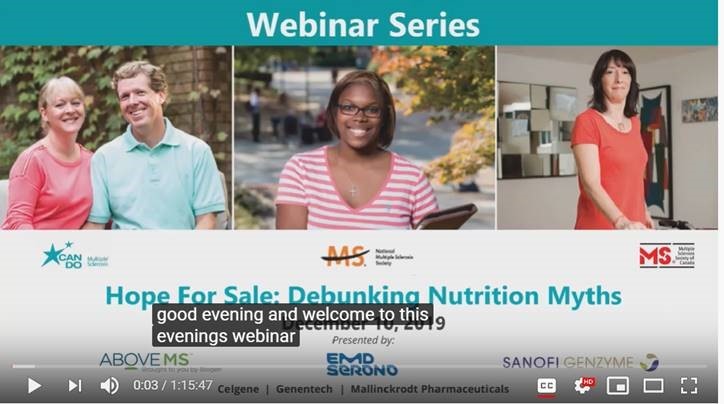 These programs are possible thanks to the generous support of the following sponsors: