MONTHLY WEBINAR SERIES
On the second Tuesday of every month at 8pm ET, join our free live webinars to learn about various aspects of living with MS and how to manage common symptoms and challenges. Register today, hear from MS experts, and ask your own questions!
Register once for the entire series!
You will receive a confirmation email upon registering. Reminder emails will be sent 24 hours and 2 hours prior to each webinar. To access the webinar, locate your reminder email and click the event URL.

June 9th, 2020 @ 8:00pm - 9:15pm US/Eastern
Join us to learn about the impact of MS on motor function. Together, we'll discuss common challenges caused by weakness, spasticity, and tremors while exploring practical management strategies.

Register Now

July 14th, 2020 @ 8:00pm - 9:15pm US/Eastern
Join us for a discussion on how MS can affect vision and sensation. We'll hear how these sensory changes impact mobility and balance and explore treatment and management strategies 
Register Now
FULL WEBINAR SCHEDULE
Tuesday, May 12: Employment
Tuesday, June 9: Symptom Management - Motor Components
Tuesday, July 14: Symptom Management - Sensory Components
Tuesday, August 11: Relationship & Intimacy
Tuesday, September 8: Pain
Tuesday, October 13: Bladder & Bowel
Tuesday, November 10: Diet / Nutrition Tuesday, December 8: Adaptations to Stay Active & Involved
CLOSED CAPTIONING
Closed captioning is available on archived webinars, which are available here within 24-hours of the live event. To access subtitles, click on the teal "Watch" button. When the Youtube® video appears, click on the white CC box on the bottom toolbar. A red line under the CC box means closed captioning is activated.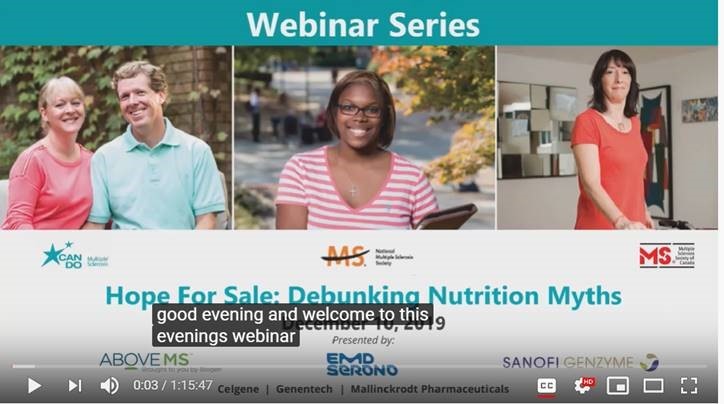 These programs are possible thanks to the generous support of the following sponsors:

Mallinckrodt Pharmaceuticals
Novartis