New in 2021! Our webinars are moving to the 1st Wednesday of every month from 8pm - 9pm ET.
Join our free live webinars to learn about various aspects of living with MS and how to manage common symptoms and challenges. Register today, hear from MS experts, and ask your own questions!
Register just once for the entire 2021 series. Please note, if you were previously registered for 2020, you will need to register again for 2021.
You will receive a confirmation email upon registering. Reminder emails will be sent 24 hours and 2 hours prior to each webinar. To access the webinar, locate your reminder email and click Join Webinar.

May 5th, 2021 @ 8:00pm - 9:00pm US/Eastern
Presenters:
Meghan Beier, PhD
Abbey Hughes, PhD
Taking control of our emotions is difficult with mood symptoms that are common in MS.  Thinking and talking about solving problems is also difficult because of cognitive symptoms.  Let's get the facts about how MS impacts mood and cognition.
Register Now
June 2nd, 2021 @ 8:00pm - 9:00pm US/Eastern
Presenters:
Megan Weigel, DNP, ARNP-C, MSCN
Stephanie Nolan, OTR/L
The summer opens up possibilities to nourish your mind, body, and soul.  MS can create challenges to travel and recreation, and COVID-19 will continue to present risks.  This webinar will provide guidelines and recommendations to enjoy a safe and fun summer.
Register Now

July 7th, 2021 @ 8:00pm - 9:00pm US/Eastern
Presenters:
Tracy Walker, NP
Matthew Sacco, PhD 
"But you look fine."  Many people with MS hear these words while their "invisible symptoms" limits their quality of life. Learn why MS causes fatigue, pain, and spasticity- and who can help you better manage these symptoms. 
Register Now
CLOSED CAPTIONING
Closed captioning is available on archived webinars, which are available here within 24-hours of the live event. To access subtitles, click on the teal "Watch" button. When the Youtube® video appears, click on the white CC box on the bottom toolbar. A red line under the CC box means closed captioning is activated.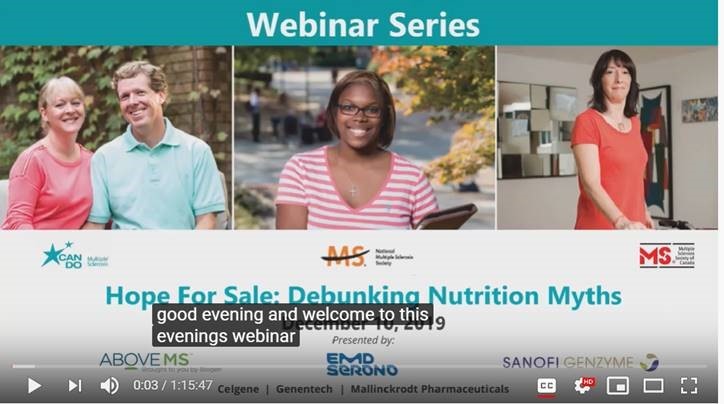 These programs are possible thanks to the generous support of the following sponsors: