MONTHLY WEBINAR SERIES
Our webinars are moving to the first Wednesday of every month from 8pm - 9pm ET in 2021!
Join our free live webinars to learn about various aspects of living with MS and how to manage common symptoms and challenges. Register today, hear from MS experts, and ask your own questions!
Register once for the entire series! If you are registered for the 2020 series you do need to register again for 2021.
REGISTER NOW for the 2021 WEBINAR SERIES
You will receive a confirmation email upon registering. Reminder emails will be sent 24 hours and 2 hours prior to each webinar. To access the webinar, locate your reminder email and click Join Webinar.

December 8th, 2020 @ 8:00pm - 9:15pm US/Eastern
Presenters:
Susan Kushner, MS, PT - Physical Therapist
Stephanie Nolan, OTR/L - Occupational Therapist
Register Now

January 6th, 2021 @ 8:00pm - January 5th, 2021 @ 9:00pm
Alex Ng, PhD, FACSM – Exercise Physiologist
Lynn Stazzone, RN, BSN, MSN, NP – Nurse Practitioner

Feel better and live healthier by setting the right exercise and diet goals for YOU. Join us to get the latest in exercise research and recommendations, and learn how your diet and gut bacteria can impact your MS.

Our 2021 Webinars have been moved to Wednesday!

Register Now

February 3rd, 2021 @ 8:00pm - 9:00pm US/Eastern
Presenters:
Kathy Costello, MS, ANP-BC, MSCN – Nurse Practitioner
Kathy Zackowski, PhD, OTR – Occupational Therapist 
Social activity is good for your health! Discover how strengthening your social support network can help you live fuller, healthier lives!
Our 2021 Webinars have been moved to Wednesday!

Register Now
CLOSED CAPTIONING
Closed captioning is available on archived webinars, which are available here within 24-hours of the live event. To access subtitles, click on the teal "Watch" button. When the Youtube® video appears, click on the white CC box on the bottom toolbar. A red line under the CC box means closed captioning is activated.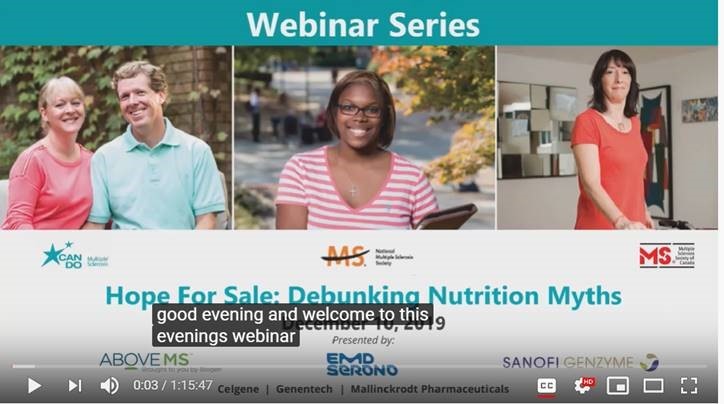 These programs are possible thanks to the generous support of the following sponsors:

Mallinckrodt Pharmaceuticals
Novartis