WEBINAR SERIES
Join us live from the convenience of your home or office for an in-depth discussion on topics relating to exercise, nutrition, communication, symptom management, employment, and wellness. Print out a downloadable schedule.
All webinars are recorded and saved in our Webinar Archives 24-hours after the live broadcast.
Register for the 2020 Webinar Series
Join us for an exciting new year with all new webinar topics! These webinars are tailored just for you, tackling common MS symptoms while offering strategies and resources for improving your quality of life. Past webinar participants must re-register for the 2020 webinar series.
You will receive a confirmation email upon registering. Reminder emails will be sent 24-hours and 2-hours prior to each webinar. To access the webinar, locate your reminder email and click the event URL.

Trouble registering? Check out these step-by-step registration instructions!
Upcoming Webinars

March 10th, 2020 @ 8:00pm - 9:15pm US/Eastern
Presenters:
Meghan Beier, Ph.D
Janet DeClark, MA, CCC-SLP 
Meghan and Janet will explain the common cognitive changes that occur in MS, and the impact of these changes on relationships, employment and communication.  They will explore and provide practical strategies to improve mood and everyday cognitive functioning.
Register Now

April 14th, 2020 @ 8:00pm - 9:15pm US/Eastern
Presenters:
Abbey Hughes, PhD
Stephanie Singleton, OTD, OTR/L
Register Now

May 12th, 2020 @ 8:00pm - 9:15pm US/Eastern
Presenters:
Rosalind Kalb, PhD
Steve Nissen, MS, CRC 
Steve and Roz will discuss how fatigue, cognition, and mood changes can impact your performance in the workplace.  They will offer strategies and resources to help you maintain satisfying employment for as long as you want to and are able.
Register Now
Closed captioning is available on archived webinars, which are available here within 24-hours of the live event. To access subtitles, click on the teal "Watch" button. When the Youtube® video appears, click on the white CC box on the bottom toolbar. A red line under the CC box means closed captioning is activated.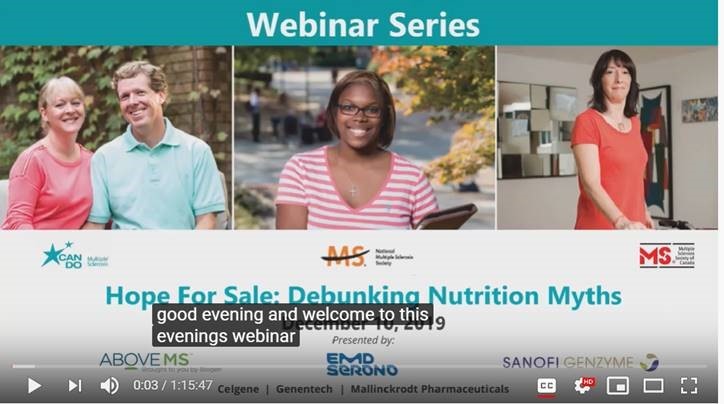 Each month the webinar will relate to the MS educational article in Can Do MS's monthly e-newsletter. Subscribe to Can Do MS's email updates.
---
These programs are possible thanks to the generous support of the following sponsors:
Mallinckrodt Pharmaceuticals