Tune in on the first Wednesday of every month from 8:00 pm - 9:00 pm ET.
Positive, practical, and easy to join, Webinar Wednesdays are your opportunity to stay up to date on the latest strategies and research for your health. Each webinar is hosted by leading healthcare professionals in the MS space and includes plenty of Q&A time for your questions.
Like all of our programs, these webinars are completely free! Check out our complete lineup of webinar topics for 2022 and register for the series today.
Sign Up for Webinars
You only need to register once for the complete 2022 series. You will receive a confirmation email upon registering. Reminder emails will be sent 24 hours and 2 hours prior to each webinar. To access the webinar, locate your reminder email and click "Join Webinar."

January 19th, 2022 @ 8:00pm - 9:00pm US/Eastern
Presenters:
Kathleen Costello, CRNP, MSCN
Rosalind Kalb, PhD
Nancy Sicotte, MD
COVID-19 still presents an abundance of questions and concerns for the MS community. In this special webinar, we'll cover vaccines, booster shots, and effectiveness as it relates to DMTs. Join us to get the facts and learn strategies for staying safe and healthy.

Register Now

February 2nd, 2022 @ 8:00pm - 9:00pm
Presenters:
Gretchen Hawley, PT, DPT, MSCS
Samantha Balistreri, PT, DPT
Falls, fatigue, foot drop... sound familiar? MS presents many mobility challenges, but you can find ways to fight back and adapt! In this webinar, learn how to address the physical and emotional challenges keeping you from staying active and independent.

Register Now

March 2nd, 2022 @ 8:00pm - 9:00pm US/Eastern
Presenters:
Stephanie Nolan, OTR/L & Kathy SanMartino, PT, NCS, MSCS, CLT, ATP
Make the most of each moment! By understanding the unique factors that influence MS fatigue, you can learn to use your energy wisely, increase your overall energy, and sustain a higher energy level. Join this webinar to learn how.
Register Now
CLOSED CAPTIONING
Closed captioning is available on archived webinars, which are available here within 24-hours of the live event. To access subtitles, click on the teal "Watch" button. When the Youtube® video appears, click on the white CC box on the bottom toolbar. A red line under the CC box means closed captioning is activated.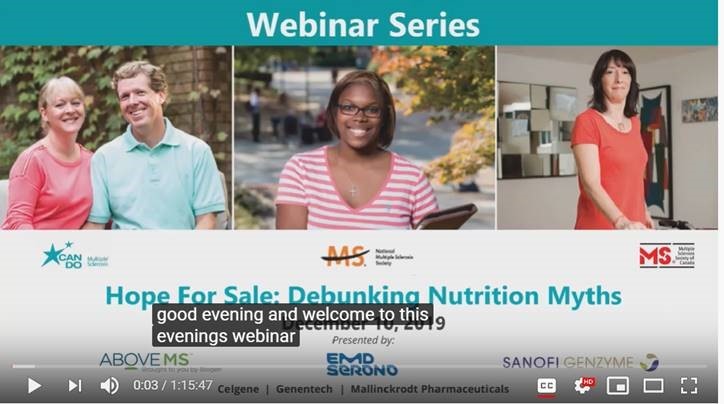 These programs are possible thanks to the generous support of the following sponsors: