Together. Transforming Lives.
November 7th, 2016
February 14, 1994, started out like any other day for Joann. That was until she visited her doctor, where she received devastating news: Joann was diagnosed with multiple sclerosis. She thought life was over. She was uncertain about her future. She was even more concerned about her unborn child, as she was pregnant with her second son.

"I struggled to get through each day. I was extremely tired and wasn't sure how I was going to raise two boys. I felt lost."
Joann's whole life was turned upside down by her MS. Just when she thought things couldn't get any worse, they did. Joann separated from her husband, had to medically retire from her career, and lost the ability to walk.
She remembers what her doctor said the day she was diagnosed: "People don't die from MS, but they may die from complications or inactivity." Joann is now confined to a wheelchair.
Many of you have experienced difficulties in your life. You know how devastating it can be. Like you, Joann felt helpless and didn't know where to turn.
Joann dreamed of a different life, one where she could be active, try new things, and have courage…just like our founder Jimmie Heuga did when he was diagnosed.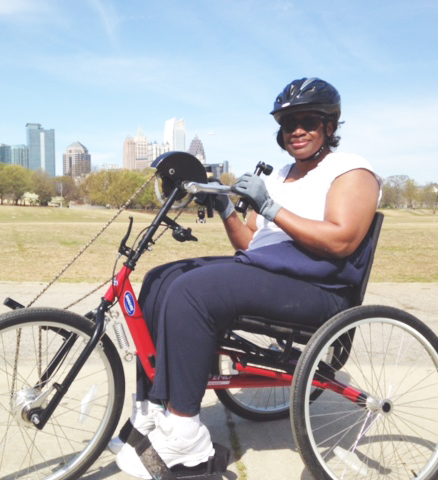 Joann began to realize her dream the day she came to the Can Do MS program.
A team of MS specialists surrounded Joann and guided her through physical, mental, and emotional challenges. Now, Joann's life is full of energy for daily living.
"I exercise daily and participate in wheelchair sports. Can Do MS changed my life."
Joann was one of the very fortunate people to be accepted into the CAN DO® Program. Because of the huge demand,today we are only able to serve 33% of those who apply.
Can Do MS impacts students like Joann throughout the year…students who dream of newfound confidence and hope that they might change their own lives.
Friends like you make it possible for all of our students to receive scholarships for our educational wellness programs on exercise, nutrition, and symptom management to inspire and motivate long-lasting change. Our work is guided by a single principle:
Every person with MS should be given the opportunity to attend a life-changing program, regardless of financial ability.
I can assure you that all of the money we raise changes the lives of students like Joann by helping them thrive. With your help, Can Do MS currently serves 20,154 students each year with educational programs that really do transform lives.
This is what Can Do MS strives to achieve in programs delivered throughout the year, in communities across the country—allowing students with MS to realize what they can do!
We need your help, so we can do even more…
Please consider sponsoring a student like Joann who needs your help.
"I never would have believed that I would be doing any of the things that I am doing now. You are changing the lives of so many, including mine. Thank you."
Your gift will make a tremendous difference in the lives of students. Please, help us deliver the life-changing experiences they want and need.
There are thousands of students like Joann who come to Can Do MS each and every month with the hope of personal transformation.
You'd be amazed at the impact a Can Do MS program can have on a single student. We help students discover their potential, and inspire life-long change, so that families with MS are equipped to return home and thrive.
I pledge this to you: Your support will make a difference in the life of a student like Joann, and your entire gift will put students in programs!
Together, we change lives!
Sincerely,

Lisa Mattis
CEO