Together. Transforming Families.
November 9th, 2017
Rhiannon, an attorney, wife, and mother, watched her life take an unexpected turn seven years ago when she received devastating news: she had multiple sclerosis.
"I couldn't walk a straight line. Swallowing became difficult. The fatigue was so unrelenting that I would be out to dinner with friends, and I would fall asleep at the table."
Rhiannon's fatigue got worse. She couldn't even carry her briefcase into the courthouse, which forced her to leave the legal career that defined her. She and her husband, Mark, were now struggling with one income and on the brink of divorce.
"We were on a train with no conductor. We needed help."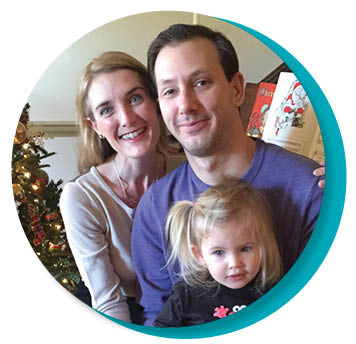 Thankfully, Rhiannon heard about Can Do MS, which provides services for whole families. At the CAN DO® Program, Rhiannon and Mark worked through their emotional, mental, and physical challenges with a team of MS experts.
Now, Rhiannon, Mark, and their four-year-old daughter, Lucia, are thriving.
"Can Do MS saved my marriage of 20 years. I learned to open up and communicate better with my husband about how I am feeling. We have direction and are back on the rails gliding down the track life has dealt us…together!"
Rhiannon also learned ways to manage her symptoms and stay active. She now exercises five days a week and makes a difference in her community by volunteering to make meals for families facing hunger.
There are countless families in need of the programs that only Can Do MS provides. Without your help, we are only able to serve a small fraction of those families in need.
Already this year, friends like you have made it possible for over 30,000 families with MS to receive full scholarships for our health and wellness education programs on exercise, nutrition, symptom management, and motivation.
Now, we need your help, so we can do even more…
Every person with MS should have the opportunity to attend a life-changing program,regardless of financial ability, and you can help us make this vision a reality.
We are doubling our programs in communities across the country that address the needs of the entire family, including children. Each and every participant receives these programs free of charge.
"The CAN DO Program is life-changing! Thank you from the bottom of my heart. Our daughter will grow up in a healthy and loving home. We are forever grateful."
Today, we ask you to join others like you with a scholarship gift to The Jimmie Heuga Scholarship Fund.
Your gift will inspire life-long changes by sending scholarship students and their families to our upcoming programs, where they, like Rhiannon, Mark, and Lucia, will thrive with MS.
Your support is urgently needed right now to make this possible. Please don't let this opportunity to support families in need slip away.
Together, we change lives!
With gratitude,

Lisa Mattis

CEO
P.S. Your scholarship gift today to The Jimmie Heuga Scholarship Fund will help strengthen families with MS. Please donate by December 31st to help families in need.