The MS Journey
June 14th, 2018
By Stephanie Buxhoeveden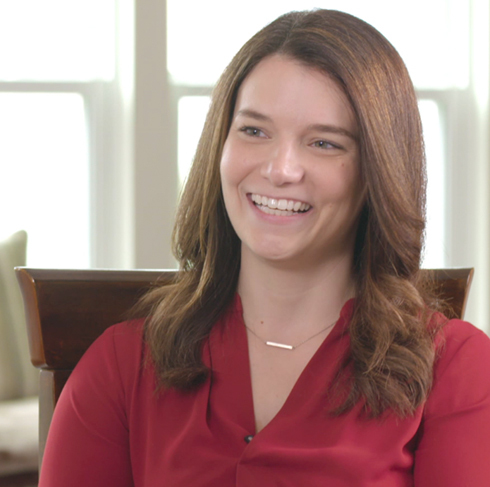 Like many others, I was diagnosed with MS in the prime of my life. At the time, I was a neurosurgical ICU nurse, a graduate student, an active pianist, and a competitive weightlifter. I was also a person who stuck to a detailed "five-year plan" and never asked others for help. Then, MS came along and changed everything.
I knew I was in trouble when I started noticing numbness in my legs, weakness in my right hand, and blurred vision. As a neurology nurse, I saw patients with similar symptoms every day. My worst fears were confirmed after several MRIs showed lesions throughout my brain and spinal cord, as well as a lumbar puncture. Seemingly overnight, I went from being a provider to being a patient.
Despite my knowledge of MS, I had a lot of unanswered questions: What was my prognosis? Would I still be able to have children? Was I going to end up in a wheelchair? Would my insurance company cover my medical care? How would I afford the medication that I needed? With MS in the picture, who was I now?
I was incredibly overwhelmed. After months of battling my insurance company, I started treatment and could finally take a deep breath. However, I still felt lost and isolated. I desperately wanted to get back to the way things were before MS, but quickly learned that I would need to find a new normal – and that started with a plan.
My medical experience taught me the importance of utilizing complimentary resources for care and support, as well as the importance of working collaboratively with a broad healthcare team. My team of physical and occupational therapists helped me get stronger, manage my fatigue, and compensate for my cognitive symptoms at work. My urologist gave me my life back by finding solutions to help manage my bladder symptoms. Information from various organizations, including Can Do MS and the National MS Society, helped me improve my diet and adaptive exercise routine, so I can feel my best. I have even saved thousands of dollars by researching copay programs and comparing the costs of MRIs at different radiology centers. With the help of these resources, and my support team, I now feel confident that I can handle whatever curveballs MS throws my way.
While I was starting my own journey with MS, I focused my career on serving others facing similar concerns. I became a board-certified MS nurse just six months after my diagnosis. Soon after, my neurologist asked me to join her practice at the same center where I was a patient. I am now an MS-specialized nurse practitioner and the co-director of an MS Comprehensive Care Center in Virginia.
As an MS specialist, I learned that everyone struggles with managing the physical, emotional, and financial nuances of living with this chronic condition. Navigating the sea of information and opinions can take a tremendous amount of time, energy, and organization. It is hard to know where to start. However, if we are active learners and self-advocates, we all can find a new normal and live our best lives. The first step on this journey is learning how to find and access the best resources for you. This is why I am thrilled about a new educational initiative called MS Path 2 Care, which aims to empower people living with MS to be proactive in managing their disease.
Developed by Can Do Multiple Sclerosis, the Society for Participatory Medicine, and Sanofi Genzyme, MS Path 2 Care provides strategies to make shared decisions in MS care. Comprised of four educational modules, MS Path 2 Care teaches everyone living with MS - including support partners - how to find trusted wellness resources, communicate with their healthcare teams, and strengthen support relationships. I am incredibly proud to have collaborated on the content for MS Path 2 Care, and hope that it will be a valuable tool for many in the MS community.