SKI for MS Vail Raises Over $45,600
February 24th, 2017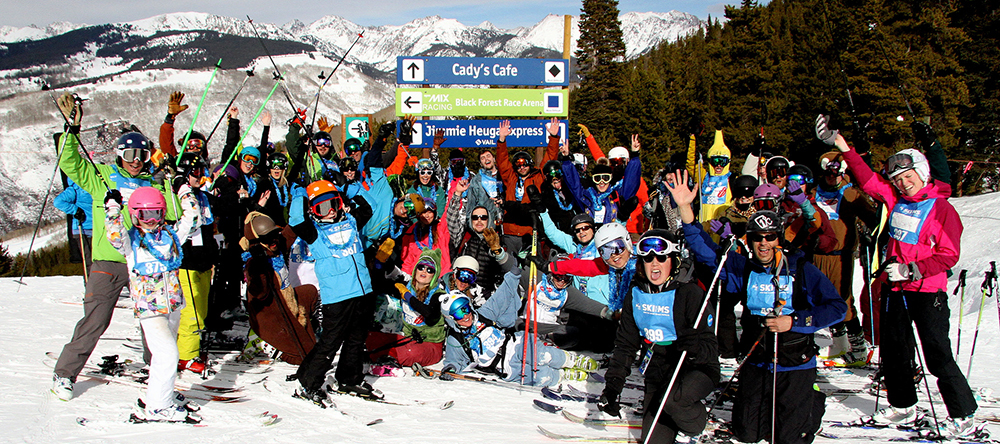 Photo courtesy of Jim Heath
Jimmie would be proud!
Thanks to everyone who participated and donated, SKI for MS Vail brought in $45,672 that will provide critical scholarship support for families with MS. That means that more people will be able to attend our educational health and wellness programs. Thank you!
The can do spirit was in full force last Saturday as more than 100 dedicated fundraisers and participants came together at Vail to ski in honor of Jimmie and loved ones with MS. It was a bluebird day, which made the scavenger hunt and ski races that much more fun! Check out these great photos.
A special thanks to all our volunteers, sponsors, and the Tenth Mountain Division band who helped make the event a huge success!
Congrats to Our Top Three Fundraisers!
With a whopping total of $10,037, David was our top fundraiser! Thank you for your continued support! Blaze Heuga skied in honor of his father and brought in $2,504. Erin was right behind him, raising $1,705 to help families with MS thrive!
Top Fundraising Teams
1st - The Burgh Boys +1
2nd - Walking Mountains' Team Nature Nerd
3rd - I Can't Feel My Legs When I'm With You
Race Winners
Team Race: 1st - '64; 2nd - I Can't Feel My Legs When I'm With You; 3rd - Walking Mountains' Team Nature Nerd
Men's Race: 1st - Peter; 2nd - Chris; 3rd - Blaze
Women's Race: 1st - Erin; 2nd - Stephanie; 3rd - Devon
Youth Race: 1st - Ben; 2nd - Ava; 3rd - Ryan
Don't stop now! Fundraising for SKI for MS doesn't end until March 31st! The overall top national fundraiser will win a trip to Vail for two for the 2017/2018 ski season!