Reflections on MS Global, "Personal Best," and Biking With MS
November 1st, 2019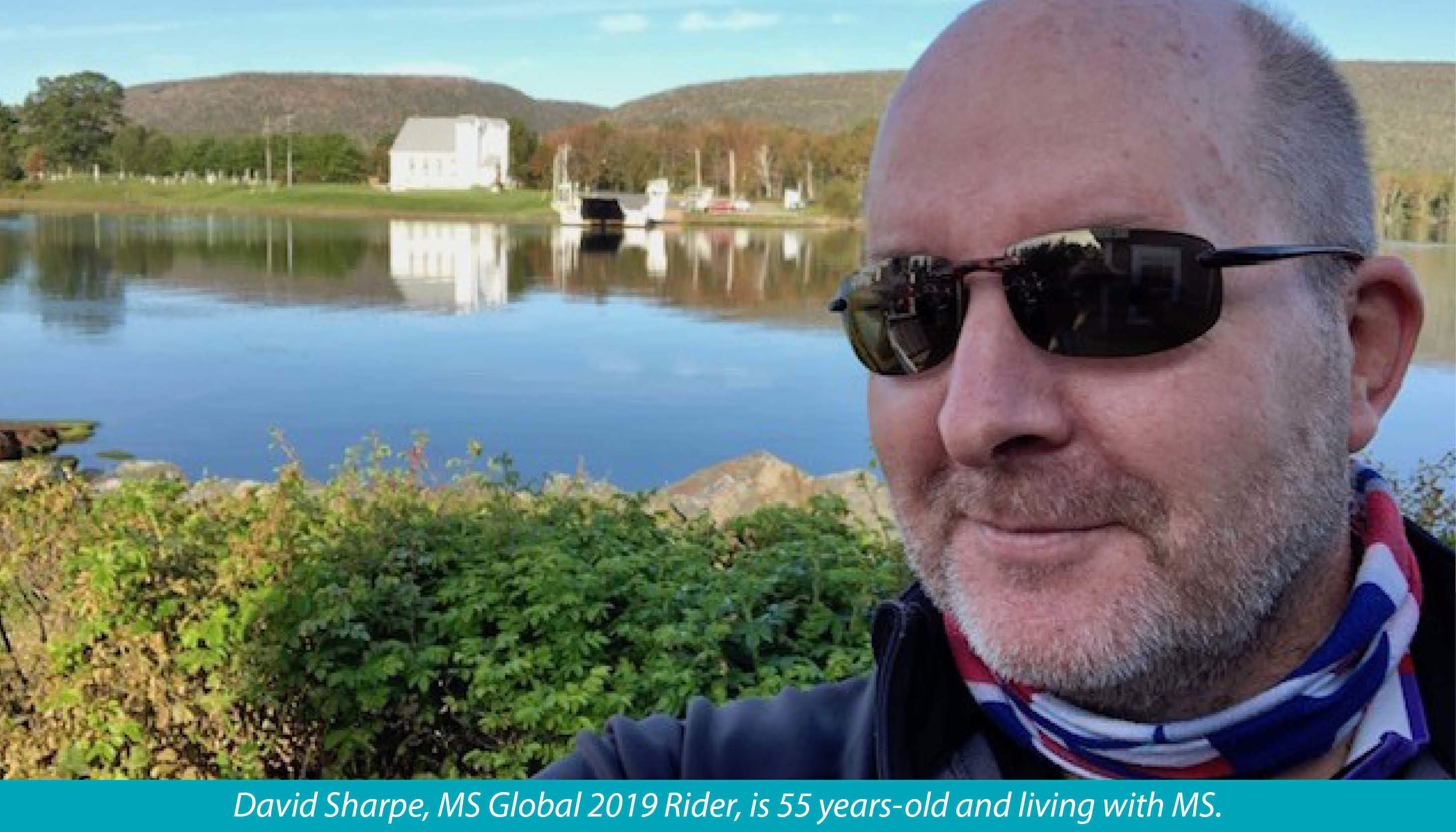 The bike is an ideal metaphor and symbol for all of us facing the many-layered challenges of MS. "Believe in the power of the bike" is the slogan of MS Global, a band of sisters and brothers who get together every year to ride (a long way) in lovely places to raise money and awareness for people living with MS. This year saw about 44 riders undertake the Cabot Trail on beautiful Cape Breton Island, Nova Scotia. We have again raised well over $210,000 for Can Do MS, every penny going to make someone's life that much better.

MS Global is a unique experience of warmth and community, which I first encountered in Asheville in 2015. I had contacted Bill Hamilton after being enthralled by Tyler Hamilton's book "The Secret Race", and attracted to his obvious passion for the MS cause. I had never really done much cycling before, but it was an activity I could still do and enjoy, and a bike tour like MS Global would motivate me. MS Global especially welcomes and accepts riders with MS. Bill was kind enough to invite me, and the rest is history. I can't overstate the enrichment it has brought to my life. For all of us, it's a highlight of our year.

The organization that today is Can Do MS was the inspiration of the US Olympic skier Jimmy Heuga, who himself had MS. Jimmy, who made a big impression on Tyler, had a view of MS that was radical in a time when there were no treatments for MS. 'Diagnose and adios' was the maxim; we know what's wrong with you, but there's nothing we can do, just go home and don't exert yourself. The quantum leaps in medical understanding of MS now deliver an ever-expanding range of drugs, enabling many of us to lead fully functioning and meaningful lives. Jimmy's view was to say, yes, I recognize my new limitations, but my focus is on what I can do.
We all have to find our own meaning in our own lives, the hand we are dealt. The dealer handed me the Multiple Sclerosis card years ago, and it's one card you cannot trade. I love Susan Sontag's metaphor, that we all carry two citizenships, in the kingdom of the well and the kingdom of the sick. I personally attest that, through the "power of the bike", there are ways both mental and physical, to cycle back into the kingdom of the well.
MS Global boasts some superb riders, so the routes are not for the squeamish. The Cabot Trail itinerary totaled over 300 miles in a week, with a lot of hills. I'd had a tough year and was not in good shape, so surveying the routes, I knew that I couldn't complete most days. One day though took my attention. It would be a real stretch, but a rest day followed it. I put a red line around that calendar date, Wednesday September 18, notched it and set my mind to it.

Everyone in the MS community knows that the big battles are those that occur in that strange place north of our neck. The emphatic truth is that one on one, MS will beat you every time. You can only learn to live with it, and accept it, when you're in community with others. Better yet, you thrive in a community of love and bonds. MS Global is our community, and while we have many great riders, you never get left behind, or in ignominious cycling jargon, "dropped". However slow you go, and believe me I am slow, there's always people willing to slow down and be with you. Through this, I have accomplished rides that I thought impossible. Why? Because I knew I would never be left behind, struggling to get up a lonely mountain. There's always someone there with you. A good metaphor for living and life in general.

The first few days were predictably hard. Cold, rain and wind quickly sap energy, and I was flagging, but I never lost my single focus on my 'personal best day'. That's how I found myself on a hillside in Nova Scotia blasted by the weather, soaking wet and very cold after a brutal climb. I took the smart move and got into the warm support van. When you get really cold, verging on hypothermia, an early symptom is slowed thinking and reactions. This makes you a risk to yourself and others. We are blessed with full support on MS Global, with talented and kind ride leaders, bike mechanics and van drivers, chauffeurs, cooks, and jills and jacks of all trades. It was pure heaven to change clothes, and get in the warm van with a blanket.
Late Tuesday afternoon, we arrived in the vans at our destination motel in Cheticamp. The weather was closing in and turning nasty and we had riders still on the mountain, some of whom were distinctly hypothermic by now. We unloaded the vans in quick time, and doubled back up the mountain. Large parts of the final descent were on unmade road, and the finishing riders emerged almost as inhuman figures in the rain. Covered in mud, soaked to the skin, and nothing but blood, sweat and tears underneath. The ride leaders made sure every single person was back and accounted for. No one gets left behind.

Showered, warm and fed, I laid down for an early night to contemplate my day ahead. Mirroring my life with MS, I managed my energy through the week, took a 'sag' in the vans when necessary, but I know my limitations and there was only one day I was capable of finishing. This was my 'personal best' day, and the battle in my head was already over and won. The battle on the bike would start at 7:15am.
Long story short, I picked out the Wednesday ride, 54 miles with a few thousand feet of climbing, on rolling roads and decent weather, as my personal Everest. From Cheticamp to Baddeck. And I did it, all the way, every single yard. I came in dead last and way behind, but with a rider on either side, and was cheered home by the entire group. I was too exhausted to safely dismount the bike, but had many volunteers to hold me up and congratulate me on this, a successful summit of my own Everest. Two of those people were Tyler and Bill Hamilton.
That right there is the story of MS Global, contained within my own MS story, the lesson that we are capable of so much more than we think, propelled by the 'power of the bike'. We just cycle all the way to the kingdom of the well.